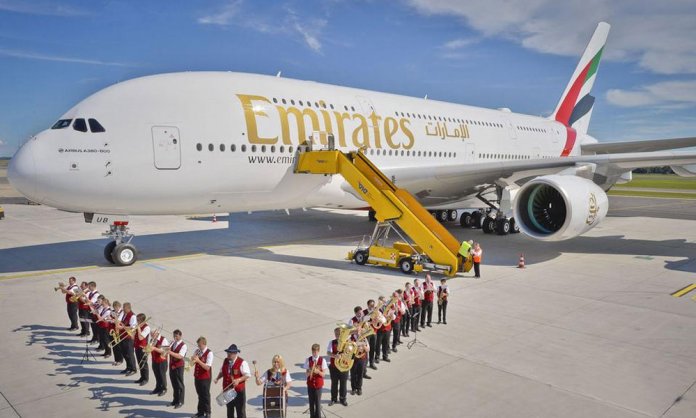 UPDATE: The world's largest double-decker airplane arrived at the New Islamabad Airport on 8th July.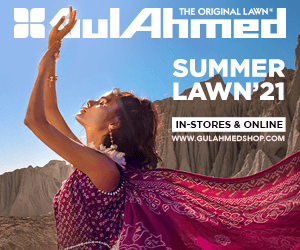 The aircraft, Emirate's A380 aka Superjumbo, was accompanying passengers from Dubai and back.
"The landing demonstrated the airport's readiness to accommodate the A380, the world's largest commercial passenger jet," -Emirates
 The aircraft and passengers were greeted with a customary water cannon salute.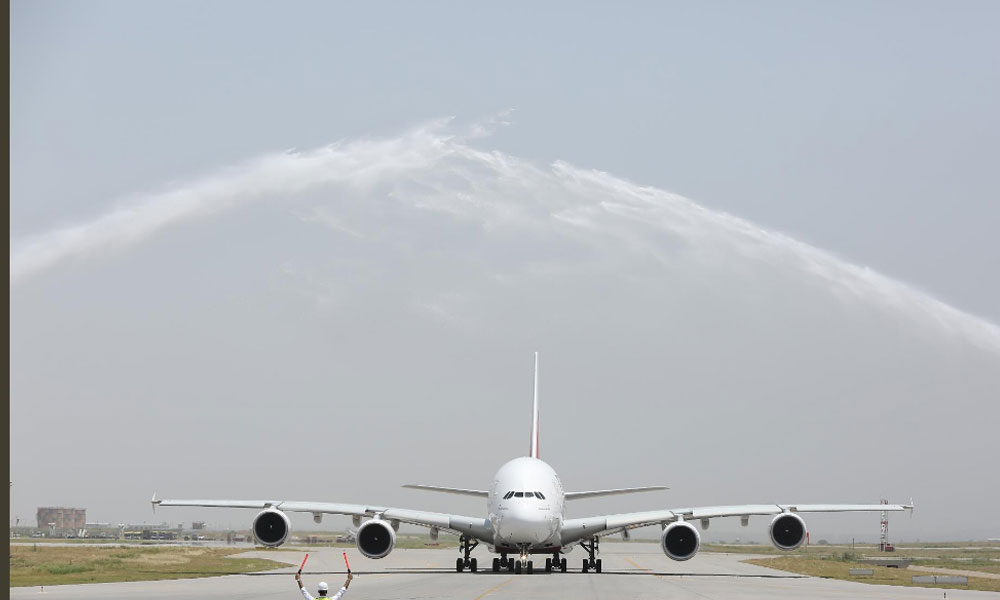 Both captains, UAE national Capt Abbas Shaban and Pakistan-origin First Officer Qadir Moin — waved the flags of Pakistan and the United Arab Emirates upon landing.
A tour of the A380 was also given to journalists and VIP individuals present at the occasion.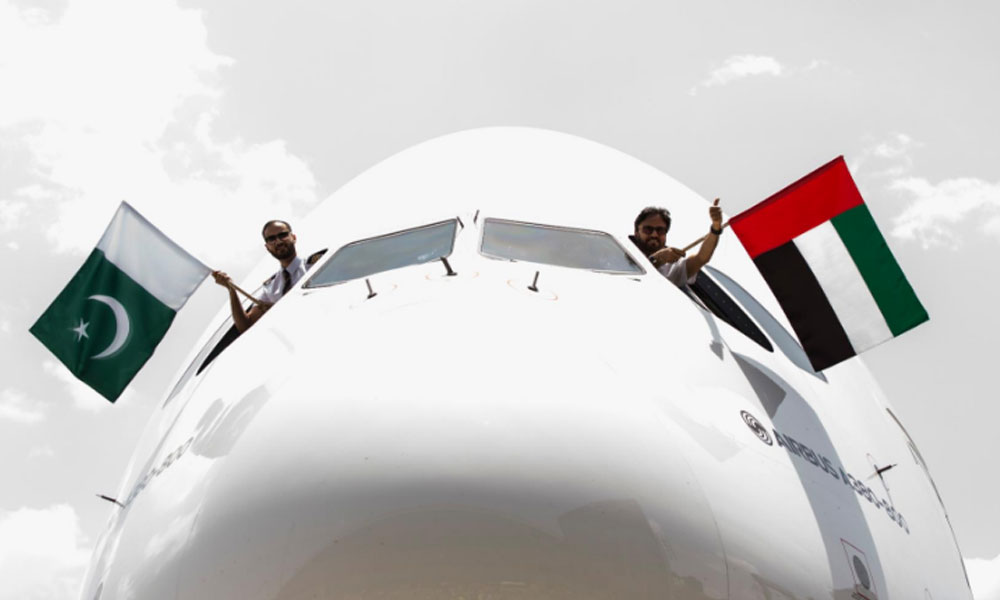 Largest passenger airplane of the world, Emirates Airbus A380 ✈️, landed for the first time at the new Islamabad International Airport today. It arrived from #Dubai with six hundred fifty passengers on board. #Pakistan🇵🇰 pic.twitter.com/cmyM7qoRnY

— Govt of Pakistan (@pid_gov) July 8, 2018
"We are proud to have operated this special A380 flight to Islamabad, the first time ever that our flagship aircraft has landed in Pakistan. The Emirates A380 is fundamental to our overall strategy, and bringing this popular aircraft to Islamabad represents a significant milestone in our operations to Pakistan, a country we flew our first ever flight to in 1985. We are very keen to now launch a scheduled A380 service to Pakistan and will continue to work with authorities to make these plans a reality," -Sheikh Majid Al Mualla
https://youtu.be/n1JZHqgXmcM
Emirates and Pakistan have a special bond which goes 30 years back when the airline's flight landed in Karachi on October 25, 1985.
---
The world's largest double-decker airplane is coming to Pakistan! The aircraft will land at the New Islamabad Airport on July 8th. It will carry individuals flying in from Dubai to Pakistan and back.
"We are excited that after more than 30 years of operations that the iconic flagship A380 is being brought to Pakistan and we are working with the authorities to make this a permanent flight,"  -spokesperson told Gulf News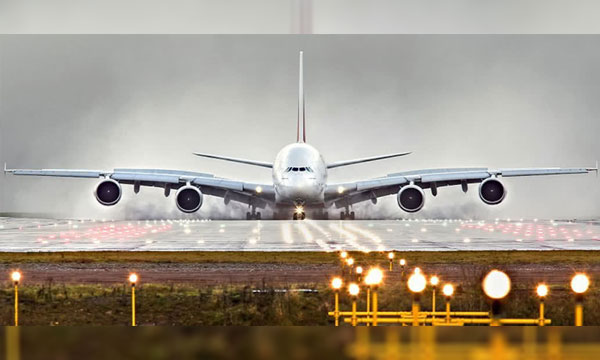 Emirates have been serving the Pakistani market for more than 30 years now, or since its first plane landed in Karachi on October 25, 1985. In 2017, around 598 million Pakistani tourists landed in the country via the airlines. Almost 400,000 are a part of the loyalty programme.
The A380 flight will depart Dubai at 8am and arrive in Islamabad at 12.10pm on July 8. On return, the plane will leave Islamabad at 3.40pm and arrive in Dubai at 5.45pm on the same day.
"We are proud to bring our flagship A380 aircraft to Islamabad, and we look forward to showcasing our innovative products onboard this iconic aircraft with the signature Emirates service," -Al Mualla
Jennifer Aniston's Latest Emirates A380 TVC Features the Cutest Pilot!
Emirates A380
Emirates A380 has a lot to offer to their passengers- from the variety of delicious food to the most comfortable and private seats, here is what the airline has in store for you:
Emirates' First Class Spa Shower
Feel fresh and wake up to a bright new day with Emirates' Spa Shower. The facility is equipped with fresh towels, warm and cold water, large shower suite, Timeless Spa toiletries (you can use your own if you'd like), and more. To avail this service, you must book a shower, and if you have a preferred time, or else the assistant will let you know which time slot is free. Also, there is a specific time each passenger gets in the shower (30 minutes usually).

First And Business Class Onboard Lounge And Snack Bar
To enjoy a bit of snacking, sipping, munching, and relaxing, Emirates offers both its First Class and Business Class passengers the facility to use the Onboard Lounge where they can sit on comfortable sofas and enjoy snacks and drinks at the bar.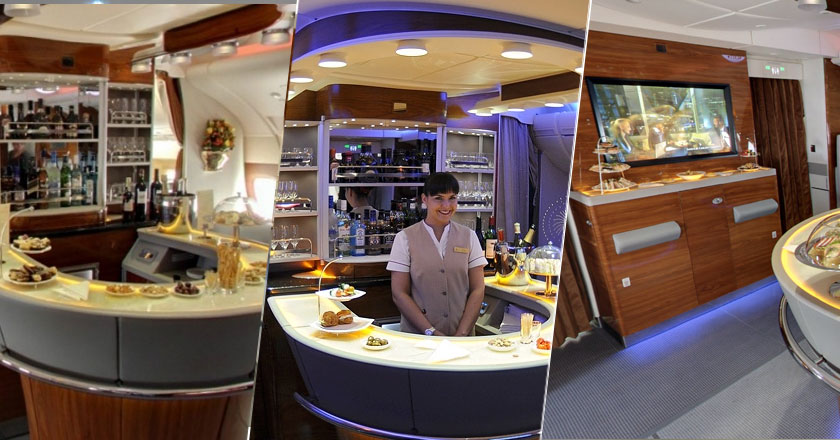 Personal Cabins
Privacy and relaxation are two things passenger long for, but not with Emirates. The A380 Airbus gives passengers private cabins. These cabins have sliding doors so that the passengers can sleep and carry on with their personal business without having anyone disturb them at all, not even the hostesses (All on first class).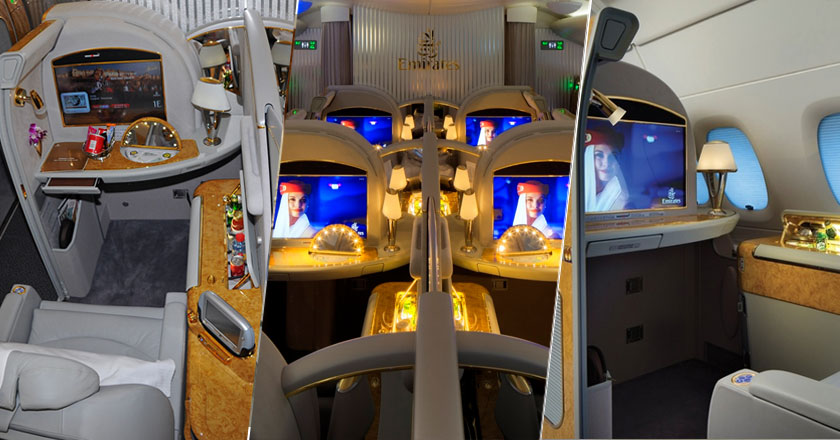 We cannot wait to see the aircraft land at the New Islamabad Airport next week!
Stay tuned to Brandsyanrio for more updates.
Emirates US Media Trip Part 1 – 5 Reasons why the Emirates A380 is Pure Luxury