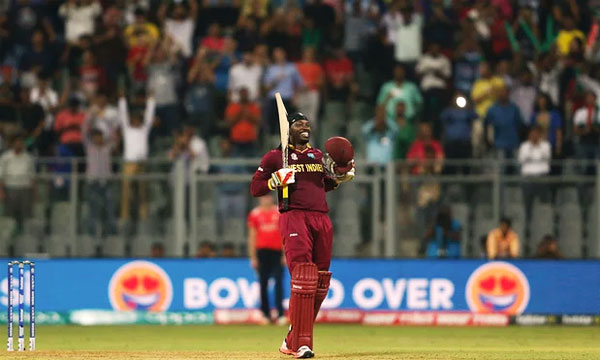 UPDATE: A scintillating century from Chris Gayle powered the West Indies to a six-wicket victory over England at the World Twenty20 in Mumbai on Wednesday.
Gayle pummelled 100 off just 48 balls, including 11 sixes, as the West Indies comfortably chased down England's modest total of 182 for six with 11 balls remaining and the loss of four wickets.
Chris Gayle said he had been on a mission to entertain after his scorching century propelled the West Indies to a six-wicket win against England in their World Twenty20 opener Wednesday.
The powerful left-hander smashed 11 sixes and five fours as the Windies successfully chased down England's score of 182 for six at Mumbai's Wankhede Stadium and then revealed that he had been inspired by an appeal from one of his team-mates.
Scoreboard of the World Twenty20 match between England and West Indies at the Wankhede Stadium in Mumbai on Wednesday:
England
J. Roy c Badree b Russell                                            15
A. Hales b Benn                                                            28
J. Root c Taylor b Russell                                           48
J. Buttler c Brathwaite b Bravo                                 30
E. Morgan not out                                                       27
B. Stokes lbw b Bravo                                                  15
M. Ali run out                                                                 7
Extras (lb1, b1, w10)                                                  12
Total (6 wickets, 20 overs)                                      182
Did not bat: C. Jordan, A. Rashid, D. Willey, R. Topley
Fall of wickets: 1-37 (Roy), 2-92 (Hales), 3-114 (Root), 4-152 (Buttler), 5-175 (Stokes), 6-182 (Ali)
Bowling: Taylor 3-0-30-0, Badree 4-0-34-0, Russell 4-0-36-2, Bravo 4-0-41-2, Benn 3-0-23-1, Brathwaite 2-0-16-0
West Indies
J. Charles c Ali b Willey                      0
C. Gayle not out                                   100
M. Samuels c Willey b Rashid             37
D. Ramdin c Rashid b Ali                      12
D. Bravo c Hales b Topley                      2
A. Russell not out                                 16
Extras (lb4, nb2, w10)                         16
Total (4 wickets, 18.1 overs)              183
Did not bat: D. Sammy, C. Brathwaite, S. Badree, J. Taylor, S. Benn
Fall of wickets: 1-2 (Charles), 2-57 (Samuels), 3-103 (Ramdin), 4-113 (Bravo)
Bowling: Willey 3-0-33-1, Topley 2.1-0-22-1, Jordan 4-0-24-0, Stokes 3-0-42-0, Rashid 2-0-20-1, Ali 4-0-38-1
Result: West Indies win by six wickets
Toss: West Indies
Umpires: Chris Gaffaney (NZL) and Rod Tucker (AUS)
TV umpire: Paul Reiffel (AUS)
Reserve umpire: Sundaram Ravi (IND)
Match referee: David Boon (AUS)
---
England posted a challenging score of 182 for six after West Indies captain Darren Sammy won the toss and elected to field in their World Twenty20 opener in Mumbai on Wednesday.
Joe Root top-scored for England with a tidy 48, including two exquisite sixes, off 36 balls at the western Indian city's Wankhede Stadium.
England skipper Eoin Morgan had promised his charges would bat aggressively but they looked nervy in the opening stages and took their time getting runs on the board.
They posted just five runs in the opening two overs before openers Jason Roy and Alex Hales began to get into their groove as England reached 36/0 after four overs. 
But right-handed batsman Roy was expertly caught at midwicket in the fifth over for 15 by a diving Samuel Badree off Andre Russell, sporting an orange mohawk hairstyle.
Hales and number three Root then struck up a healthy partnership as England quickened their run-rate, reaching 81 for one after 10 overs.
The partnership was at 55 runs when six foot seven inches left-arm spinner Sulieman Benn bowled Hales in the 12th over with England's opener having made 28.
Root then went when he miss-hit a Russell delivery straight to Jerome Taylor, who pouched the ball with ease at mid-off.
Jos Buttler made 30, including three sixes, before being caught by Carlos Brathwaite in the deep, while Morgan scored 27 not out as England finished their 20 overs on 182 for six.
Stay tuned to Brandsynario for more.