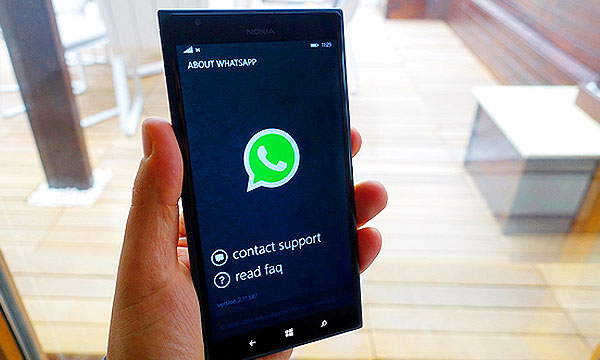 After an extremely lengthy wait, WhatsApp voice calling feature has been finally confirmed for the Windows Phone platform.
The WhatsApp Windows Phone app update (version 2.12.60.0) will also bring new features such as sending audio files (which is currently available on Windows Phone 8.1) apart from the VoIP-based voice calling feature. This app for Windows Phone is also available to download.
According to Joel Locsin/LBG, GMA News , "With VOIP now available on the three platforms, WhatsApp can focus on updating and improving the overall calling feature to make it a genuine competitor for the likes of Skype and Viber."
Read also: Activate WhatsApp Voice Calling Feature in Pakistan
The voice calling feature for Whatsapp has already been updated on Android, iOs and even Tizen platforms and all the while Windows Phone users could not access the coveted feature.
Using the phone's Internet connection or Wi-Fi, WhatsApp Messenger allows you to exchange messages without having to pay for SMS. In addition to this, it also allows users to "send photos, videos, and voice messages to your friends and family."
However, WhatsApp cannot access 911 or other emergency service numbers.
Although late but at least now the Windows phone users have something to celebrate!