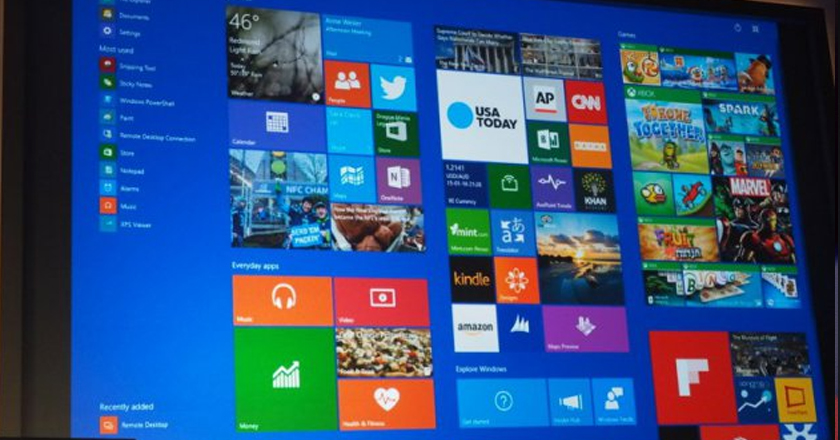 By Zenub Ayaz
The mighty Windows 10 will be available in 190 countries in 111 different languages – all in a matter of months.
According to Microsoft's Executive Vice President of Operating Systems Terry Myerson's Blog Post, Microsoft has expedited the launch of Windows 10 to summer 2015, although it was scheduled to be released in the latter halfof the year.
Windows 10 will be launched in Summer 2015. 
Read More: Windows 9 Skipped for Windows 10
Windows 10 is being anticipated as Microsoft's most significant release of years, combining the facts that it offers free update to all the existing users of Windows 7, 8, 8.1 and Windows Phone and it's never ending list of all the new mind boggling features. However the update is free for the first year of release and later the users would have to pay for it.
Everybody is aware of how Microsoft ruined the windows-experience by launching Windows 8, followed by Windows 8.1, also how the company eliminated the orderly sequence and jumped directly to Windows 10.
Read More: Windows' Biggest Tech Leap Till Date
Microsoft has worked hard for the last two years to put forward something which could serve as damage control since the launch of Window 8.
As the CEO of Microsoft Satya Nadella has been repeatedly emphasizing over the fact that they want to make Windows 10 the most loved release of Windows.
As for the Free Updates, according to Myerson, the company has been indulging in various partnerships to ensure a high reach for Windows 10. Currently Lenovo, Tencent and Qihu 360 are onboard and guarantee a worldwide adoption of Windows 10.
Apart from those, Xiaomi which is ranked amongst the worldwide top smartphone distributors, has taken an initiative, a group of Xiaomi Mi 4 users will be able to download and install the Windows 10 Technical Preview.
Although Xiaomi Mi 4 is an Android device but the partnership directs that there may be some Windows-based Xiaomi devices in the future.