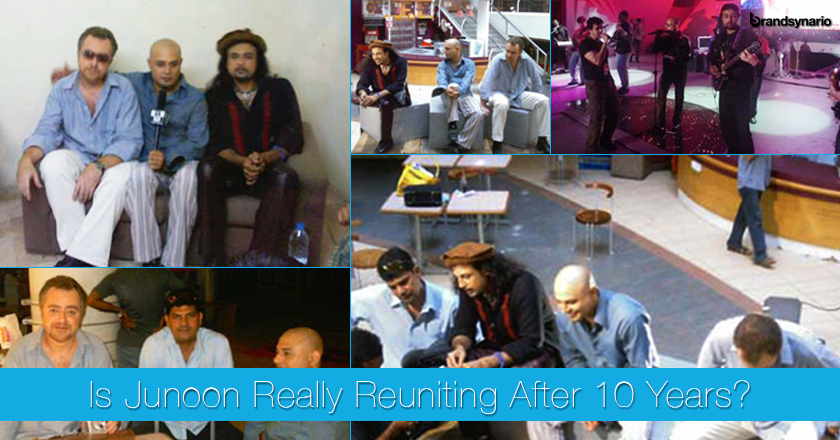 Salman Ahmed created abuzz over the internet when he hinted a possible reunion of Junoon, as he mentioned talking to Ali Azmat about it after 10 long years. Junoon broke up in March 2005.
The names Ali Azmat, Salman Ahmed and Brian O'Connell, aka 'Junoon', have bought Pakistan nothing but glory, recognition and admiration. Numerous international television show appearances including CNN and BBC, along with performances in United Nations General Assembly and of course Channel V's 'Best International Group' of 1998, beating Prodigy, Sting and Def Leppard – Junoon had it reached the sky with less than eight years in the business. Have a look at the golden era of Pakistani Music and Junoon as the band:
Junoon performing at UN General Assembly 2001
Ali Azmat still has not released any official word over Salman's tweet so far. In fact, Ali Azmat's official fan page managed by Team Ali Azmat posted this hours ago.
"News Update: Its spreading around every corner for a ReUnite of Junoon, This is an official update to all Ali-ens and others that "Nothing is confirmed from Ali Azmat".
– Team Ali Azmat
'Nothing is confirmed', that is the key here. Ali showed his resentment towards Salman Ahmad, while Brian has gone back to States. In an interview to Express Tribune, Ali had remarked:
"I resent Salman Ahmad; I can't stand the man and can't take his dramas. It's a choice of personal liking."
What conspires next is yet to be seen but all the Pakistanis and music lovers across the world would want nothing more than to see Junoon performing back together.