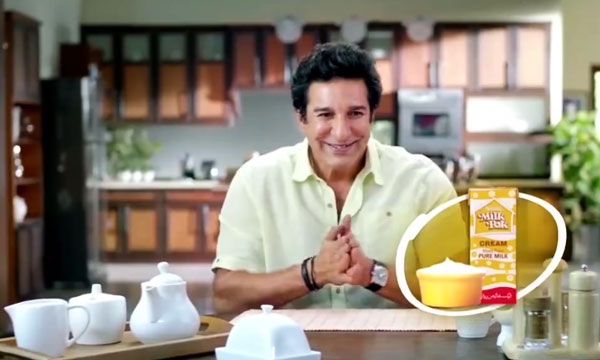 491 views
The sultan of Swing, 'Wasim Akram' has recently endorsed Nestle's MilkPak Cream. The new TVC launched on Independence Day features the cricketing  legend as a foodie enjoying all the delectable traditional dishes made using the brand including parathas, desserts, and lots more.
Watch the TVC below:
[fb_embed_post href="https://www.facebook.com/MILKPAKCream/videos/1638852099693662//" width="550″/]
 Difficult to resist,  Nestle's  MilkPak cream is what swings Waseem's taste buds.
At first one wonders why the brand chose Waseem Akram , who has been endorsing ACCU-Chek and raising awareness regarding diabetes across Pakistan to endorse Milk Pak Cream since it is typically consumed with a varied assortment of desserts. However, on being contacted, Nestle claims that the main reason was the fact that Waseem Akram is a national hero associated with cricket-Pakistan's favorite sport that has become part of our culture and tradition. This will amplify the image of the brand as a traditional delicacy.
Nestle also highlights the many different uses of cream and the variety of occasions at which those dishes are enjoyed. A point to note is that though it may be associated with desserts, this traditional ingredient contains no added sugar and those who may have to control sugar in their diet, may do so by eating it without adding sugar or then enjoying a sweeter taste by adding  sugar substitutes.