Seems like the apparent cold war between Arijit Singh and Salman Khan has officially come to an end. Arijit Singh has been roped in to sing a solo for Salman Khan's upcoming Bollywood venture, Tubelight, slated to release on Eid next year.
According to the rumor mill, Arijit Singh decided not to sing for Salman Khan anymore after the 'Tum Hi Ho' singer was ousted from 'Jag Ghoomeya', a track from Salman Khan's hit flick Sultan. The feud has been going on a while now and we are glad the two are finally on good terms with each other.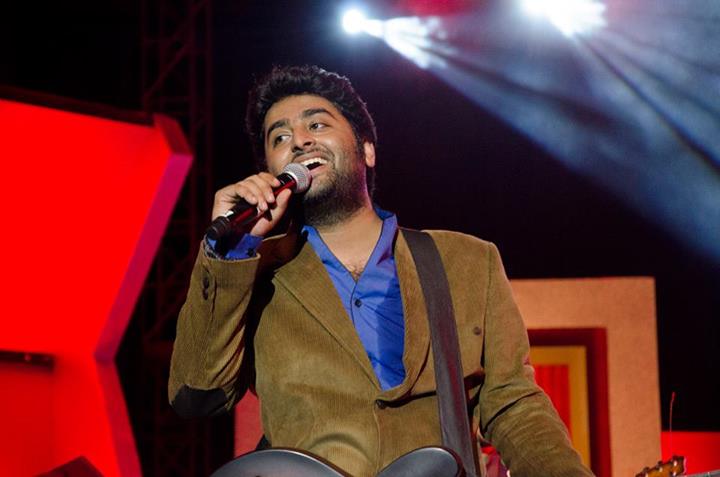 Arijit completely shunned the rumors buzzing on social media, confirming that he will be singing in Tubelight.  "Yes, I am singing for 'Tubelight.' It was recently reported that I said I will never sing for Salman Khan. Who am I to make such arrogant and unwarranted remarks? As far as I am concerned, I am and have always been a Salman Khan fan."
http://www.brandsynario.com/salman-khans-tubelight-movie-first-look-release-revealed/
It was claimed by Vishal Dadlani, the composer for Sultan movie that Salman Khan was the one who asked to remove Arijit's song from the movie. However, Salman Khan negated any such claims, saying that choosing singers was entirely up to the director and producer of the movie and he had nothing to do with the matter.
We are just glad we'll get to hear Arijit's melodious voice in Salman Khan next movie.
http://www.brandsynario.com/salman-khan-lulia-vantur-already-married-romania/
---
Arijit Singh recently made headlines when he posted an apology on Facebook to Salman Khan- he insisted that Salman Khan reconsiders cutting his song from the movie Sultan.  Arijit Singh has finally decided not to sing for Salman ever again, a source close to the singer told BollywoodLife; "Arijit has decided to move on! He isn't going to beg for an apology anymore neither is he going to work with Salman in the future."
The source said that the singer has decided that he will not work with Sallu bhai for any of his future movies.
Arijit and Salman were just having fun at the Star Guild Awards 2014 but Salman Khan got offended after what Arijit said as a joke. A spat broke between the two and they have not been on talking terms since then.
The Dabangg actor had opened up to the media about his tiff with Arijit Singh. As per Deccan Chronicle, when Salman Khan was asked about Arijit's desperate plea, the Dabangg star carelessly asked, "Who is that?"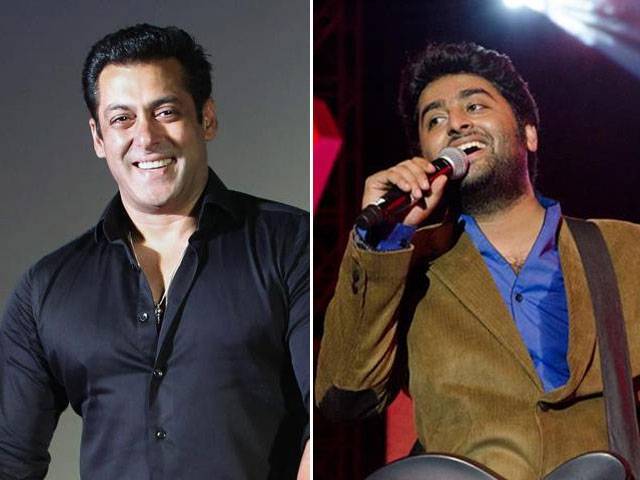 The actor clarified that it was his decision to remove Arijit's song from the movie.
"In every film there are lot of singers who sing and director and producer who make the choice of who is going to be the best voice for the film," said Salman. He explained that his own song also did not make the cut.
"One voice was mine but that was also rejected, so why get so upset and so hurt. This is life," reported Deccan Chronicle. 
The song Jag Ghoomeya in Salman's movie Sultan was initially recorded by Arijit however, it was re-recorded in Rahat Fateh Ali Khan's voice.
Salman said, "here should be a day when a person (actor) should say don't sing or sing. Smart ones don't turn out bright. Then smart comments … post… they don't… you come to know the intentions," taking a dig at Arijit Singh.
---
India's recent singing sensation, Arijit Singh posted and then deleted a heartfelt apology to Bollywood superstar, Salman Khan and the internet went into a meltdown to look for a reason for this sudden turn of events. Arijit Singh begged the 50-year-old actor not to delete the song he recorded for his upcoming film Sultan.
Singh, in his confession letter to Salman Khan, noted that he is trying to call and text Salman Bhai several times, but somehow he is unable to reach him through any medium. After being ignored by the Dabangg hero, Arijit finally decided to write an open letter to the actor, apologizing for his mistake and disrespectful attitude at a musical gala.
The letter states: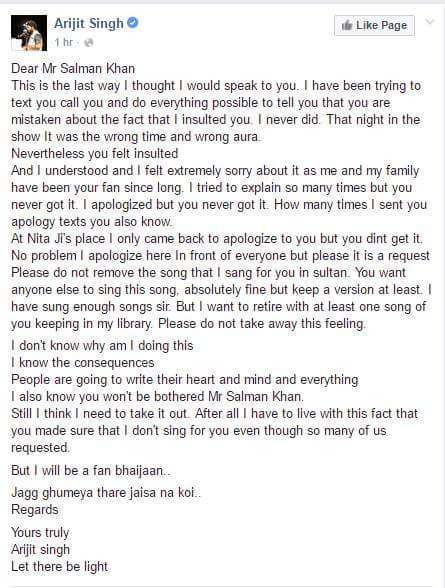 Soon after writing an open letter to Salman Khan, the singer writes another post hoping that Mr. Khan would read his letter and will accept his apology.
[fb_embed_post href="https://www.facebook.com/ArijitSingh/posts/1712232689015950/" width="550″/]
While many are berating him for his desperate attempt to be in Khan's good books, the reason behind Singh's apology is still unclear. A video clip from Star Guild Awards 2014 might be the  possible reason behind this whole fiasco.
In the video, Arijit jokingly tells Khan that his hosting performance was so bad that he actually fell asleep. Watch the clip here:
https://www.youtube.com/watch?v=IDKgDsQA-G4
We hope Arijit's desperate plea softens Dabangg Khan's heart towards the singer.
Stay tuned to find more on Salman Khan's latest controversy!