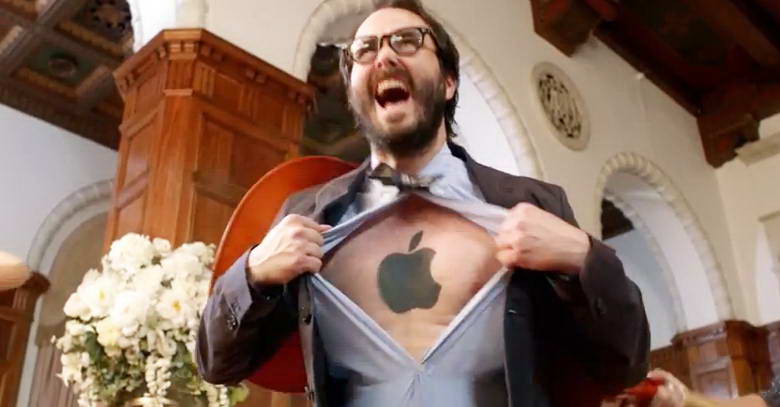 Apple must have anticipated the reactions from its adversaries when it was boasting next generation iPhone 5S and 5C. Nokia was destined to come up with a taunt as the iPhone 5C was launched in all the same colors as the LUMIA series.
Google pulled back the launch of series of impressive gadgets which Apple decided to counter with iPhone 5S. Microsoft acquired Nokia and has entered the Smartphone war all hands down.
Apple unveiled its highly anticipated iPhone 5S and iPhone5C on September 10. The flagship 5S is a formidable campaigner in Smartphone industry with a 64 Bit processor, Biometric fingerprint recognition and internal memory up to 64 GB.
It was 5C that raised eyebrows of the Smartphone critics across the globe, as some called it iPhone 5 in a polycarbonate exterior with almost the same set of specifications.
Immediately after Apple's event, competitors chose social media to tweet and post pictures all for one purpose, to mock iPhone 5C. Nokia took a bash Apple's 'think different' slogan, in every possible way and rightfully so.
Apple did indeed imitate bold color scheme of Nokia LUMIA series by launching the iPhone 5C in a number of 'bright' colours.
Nokia tweeted yesterday, "Thanks #Apple ;)'Imitation is the best form of flattery". 
Microsoft went a step ahead and came up with a controversial tweet last night, '5 Things Apple didn't announce today' – "It's time to switch to Windows Phone Lumia 1020 with 41 MP & reinvented zoom".
The tweet was followed by a picture of Nokia's flagship Lumia 1020, with five features that Apple failed to incorporate in their flagship iPhone 5S.
Nokia UK joined the party with an image of a Gangster with a caption that "Real gangsters don't use gold phones". Nokia's 620 is half in price to iPhone 5S, literally.
Another competitor who seemed to have a field day was Google. The company's Android and Chrome teams were already nicely ahead of Apple's iOS team in terms of service integration, customization, ease of use and ability to ship a given grade of hardware at a much lower price.
Apple's event was a lingering threat for Google which passed like a lullaby. The biggest threat for Android phones from Apple's side is now a finger print security, which could have been called innovation five years ago in laptops.
People hardly care how difficult it was for Biometrics to be integrated in a Smartphone touch screen, they are seemingly more content with Android's 'pattern security'.
To counter the not-so-innovative yet heavily priced iPhone 5S, Google have already introduced Android OS version 4.4 KitKat.
It is also ready to launch the new Chromebook laptops starting around $199, a Chromepad (touchscreen Chrome OS tablet) and next summer might witness the first Chromephone (Chrome OS replacing Android on the smartphone). Therefore it is safe to say; 'think different' seems to be Google's maxim these days.