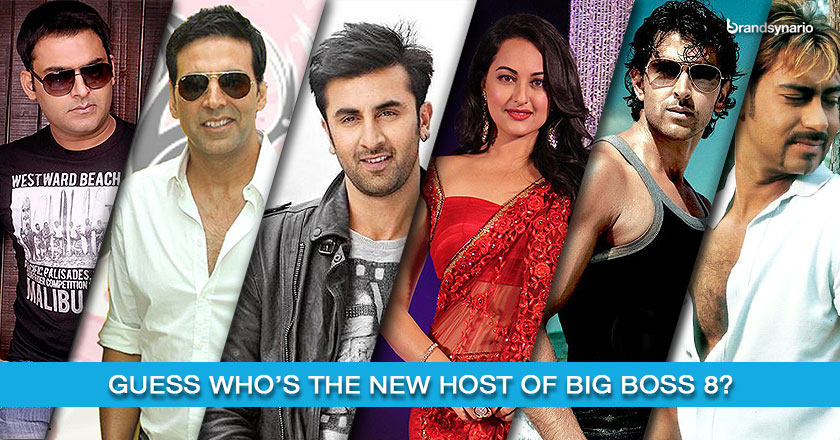 Salman Khan, will not be hosting Bigg Boss Season 8 anymore. After his successful but tiring experience during Bigg Boss season 7, Salman has decided not to continue his four year long relationship with Bigg Boss franchise.
An important question that arises now is, "who will be replacing Salman as the new host of Bigg Boss season 8?"
When a survey was done on the most likely personalities to replace Salman this season of Bigg Boss, the names that caught most attention included:
Shahrukh Khan (SRK)
According to the recent buzz in the market, Bollywood's intense rivalry between Salman and Shahrukh is once again the hot topic. With his not so successful role as a reality show host for Kon Banega Crorepati and Zor ka Jhatka – Total Wipeout, Bigg Boss 8 will provide King Khan with a perfect opportunity to conquer this one front that he hasn't been able to do so far.
Quick witted to the extent of being sarcastic, SRK will definitely keep the contestants in line and no doubt, the fans would be thrilled to see their all time favorite hero every weekend. Big Boss franchise would be in a for a great treat only if SRK agrees to host the reality show.
Ranbir Kapoor
Known for his killer looks and casanova persona, much like that of Salman Khan's; Ranbir Kapoor will definitely keep the female fan following intact for Bigg Boss. Although, the actor lacks the experience or authority but he can make it up for that with his candid attitude and sweet talks.
What Salman forecasted on Koffee with Karan, is indeed coming to be true, the Kapoor is actually stealing everything from him that includes his gorgeous girlfriend, his movies and now his TV show. We wonder what's next?
Ajay Devgan
One of the closest friends of Salman, Ajay Devgan is also rumored to be taking over the scene as Salman Khan's replacement in the next Bigg Boss season.
Ajay, Salman and Sanjay Dutt, the trio known for their friendship are much alike; this gives Ajay an upper hand on other contenders for hosting Bigg Boss 8. Mr. Devgan was also found commenting on this, saying "I really don't know. I cannot comment on that – maybe I will or maybe not. I am not sure." Moreover he added "Salman does it so well… he is watchable. I don't know if I can pull it off like Salman. I have not seen all the episodes, but a little bit here and there."
Sonakshi Sinha
The actress that has been then and again known for her "dabangg" personality is also rumored to be a strong contender for the replacement of Salman Khan.
Sonakshi is known for her bold personality and sweet nature, both of which are crucial for successfully hosting this real life controversial show.
Akshay Kumar
Akshay has previously hosted many successful shows, like Master Chef India and Khatron k Khiladi, both being difficult reality shows, thus proving his talent as a successful and effective show host.
Over the time, Akshay has established himself as a hardcore action and comedy role figure, hence his addition to the Bigg Boss family will not only add hilarity but the much needed dominance over wild contestants.  His life's moto, well explained in the dialogues below explains the Bigg Boss philosophy too.
"Peene ki capacity, jeene ki strength, account ka balance aur naam ka khauff … kabhi bhi kam nahi hona chahiye"
Hrithik Roshan
Not to forget, the heartbreaking (now divorced) super star, Hrithik Roshan, can also be a good choice for the upcoming Bigg boss season 8's host.
Recently divorced, Hrithik Roshan, is much in the news these days, while his recent ad and shoot for his new movie "Bang bang" shows his interest in keeping busy, who knows he might end up hosting the Big Boss season 8 as most rumors suggest.
Kapil Sharma
Kapil, a stand-up comedian and director, known for his humorous hosting, is also rumored to be a strong contender for the hosting of Bigg Boss season 8. Kapil, having good humor sense has recently been seen as getting into the bad books of Salman & his brother. Who knows, Bigg Boss might end up picking him up as the replacement for Salman.
Whoever the new host of Season 8 will be, we are sure Salman would be least concerned as he will be too busy shooting for his new upcoming social service show, soon to be aired by another TV channel.
Who knows, Pakistani's might get our own Bigg Boss Pakistan before Bigg Boss Season 8.