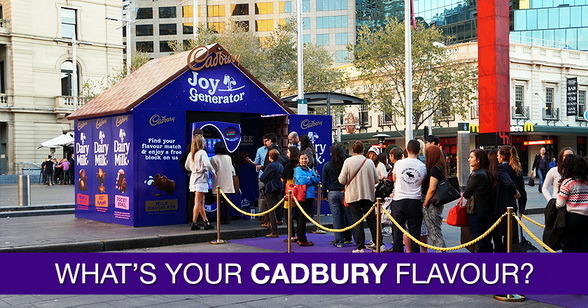 Brands now a day are becoming more pro-active and creative when it comes to engagement with their customers.
Cadbury Dairy Milk Australia came up with this brilliantly innovative idea of connecting its customers' Facebook personalities with the particular dairy milk flavor that best suits them.
You got to give it to the agency, for bringing this brilliant concept in place with an excellent execution, i.e. through the world's very first Joy creating vending machine.
Cadbury's famous vending machine goes by the name of 'Joy Creator' and chooses the best suited Cadbury dairy milk flavor for you, by asking you to log into your Facebook account.
Truly social, the machine then gives you the dairy milk as per your likes, favorites and interests as mentioned on Facebook. The chocolate bar, although free, asks you to take a picture in an attached photo booth before you leave the vending machine.
Watch the activation video here:
Joy Creator, chooses your personality matching flavor from a particular range of flavors including Cadbury Dairy Milk's range, Milk Chocolate, Hazelnut, Peppermint, Roasted Almond, Fruit & Nut, Rocky Road, Crunchie, Snack, Caramello, Turkish Delight, Top Deck and Black Forest.
We did hear about personality tests, but it's the first time that a brand has ever decided to use it for brand engagement and trust me when I say it is working.
Kudos to Cadbury Australia for bringing chocolates and social media together.