Saboor Aly's wedding festivities are in full swing and the videos and pictures are engaging all netizens. The bride and groom look excited and their friends and family are participating in all the fun. However, in all of this fun fare, netizens have an important question for the bride and the bride's sister.
What's Going On?
A lot of videos and pictures are being shared of the celebrity couple Saboor Aly and Ali Ansari. The couple is dancing the night away and sitting while others rub Ubtan on them. In doing so, people obviously notice who is there and who isn't. More often than not, people are more concerned with who isn't there and in these festivities, there is a huge absence.
View this post on Instagram
Where is Ahad Raza Mir and Family?
In all the pictures and videos, Ahad Raza Mir and his family are not present. Ahad Raza Mir is the brother in law, surely there is a close relationship between him and Saboor Aly. Moreover, for Ahad Raza Mir's family, this is their daughter-in-law's family wedding. Why would they not be in attendance? It is very likely that they are not in the country at the moment but the absence is very jarring.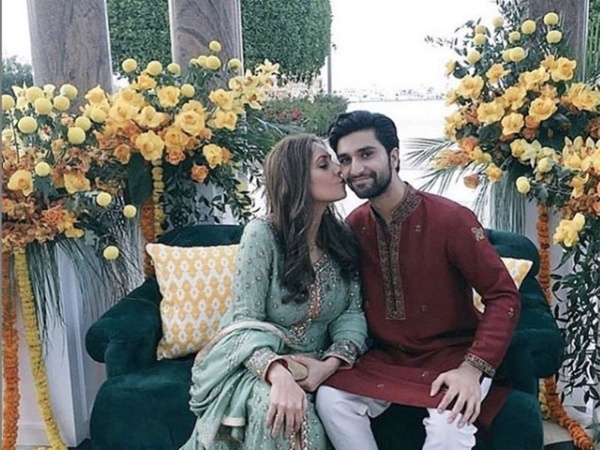 Read more: Saboor Aly & Ali Ansari's Wedding Festivities Finally Kick-Off
What Are People Saying?
Mostly under all the covering media of the wedding, people only have this question to ask. In addition to that, they are also noticing something else which is making us think about the wedding. Have a look at what all they're saying: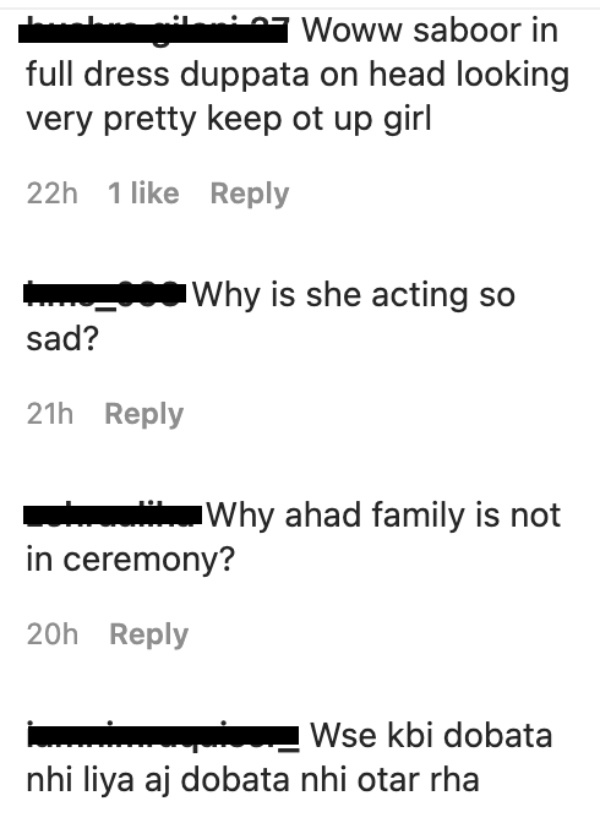 Is Saboor Aly Not Happy?
It may be that Saboor Aly is missing her mother. In all of their videos and pictures, Saboor Aly is looking rather sad and unhappy. It's as if something really is missing and she's just not feeling it. In another video, while Sajal was rubbing ubtan on her, she is just looked depressed. Besides that, in this recent video, while the groom is excited and dancing, the bride is just looking disinterested.
View this post on Instagram
One feels a lot when they are about to get married and the absence of family members can also be overwhelming. However, consistently looking depressed is making all the netizens wonder what's going on!
Read more: Sajal Aly Responds To A Troll Who Asked About 'Khush Khabri'
Stay tuned to Brandsynario for the latest news and updates.