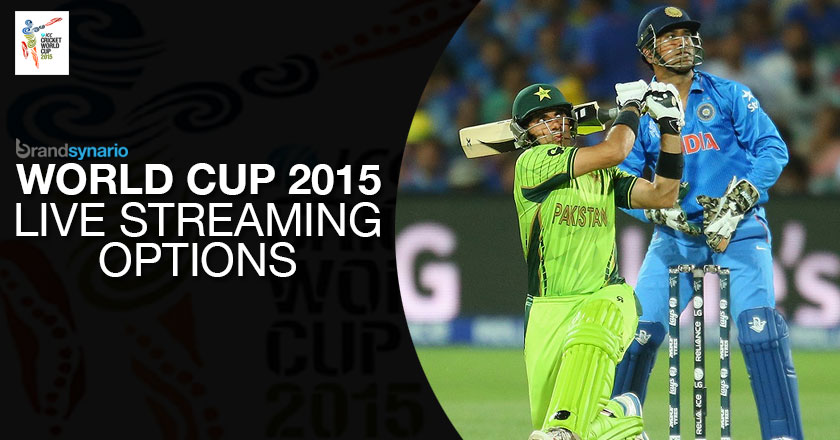 How annoying is it to watch the tension clad Cricket World Cup matches with incessant number of cheery advertisements, making you miss out on important cricket moments and ruining the entire mood? Or worse, being stuck in traffic and only have radio to listen to the commentary?
To provide you your Cricket World Cup fix, there are a number of websites, local and international, that allow you to watch the live streaming of World Cup matches through your smartphones and desktops.
PTCL Smart TV App
If you hate adverts while watching your favorite World Cup cricket matches, PTCL has an ad-free on the go solution for you, the PTCL Smart TV App! Now not only can you watch all the World Cup matches on your smartphones and desktops, you do not have to miss out on a single second of the match due to advertisements. Better yet, you can watch cricket matches, up to 7 days old, by rewinding the TV stream, using the TV on Demand feature.
For the time duration of World Cup 2015, i.e. till 31st March 2015, PTCL is offering a special World Cup package, for only PKR 499. The package includes all 150 channels with all available features and a special World Cup 2015 ad-free stream.
After 31st March 2015, the app and its features will be free for those who have subscribed for 4Mbps, 8Mbps, Charji and DSL packages. Others will have to pay a monthly fee of PKR 250.
Android users can download the app from Google Play Store and iPhone users can download it from iTunes. For registration, visit www.smarttv.com.pk and sign up for an account. For detailed instructions, read PTCL's manual for registration here. Remember to save your MDN number for payment.
Desktop users can watch the live World Cup 2015 cricket matches by visiting www.smarttv.com.pk and login with their username and password.
Smartphone users will need to enter their username and password details at the downloaded app to sign up and access live TV channels.
PTV Sports
Yet another option for Pakistanis is the PTV Sports website. The World Cup 2015 live stream is only available for viewers in Pakistan. You can access it here for free.
ESPN
For USA viewers, the best option is ESPN's official website. For USD 99.99, you can get access to live streaming of all 49 matches of the World Cup 2015. The streaming is available for ROKU, Android devices, Apple iOS devices and desktops.
Fox Sports
For Australians, the only option is Fox Sports since it's the only channel with rights to stream World Cup 2015 live. If you are in Australia, you can watch the World Cup matches live online using your Foxtel subscription.
Sky Go
For UK viewers, Sky Sports is the only legal World Cup 2015 broadcaster. For those who wish to watch the match live online can use their Sky Go subscription to view live Sky Sports online here. Those who do not have Sky Go subscriptions can buy Sky Sports passes from Now TV website to watch the World Cup 2015 matches. Day Pass, valid for 24 hours, is available for £6.99 and Week Pass are available for £10.99 on limited time offers.
Star Sports
With exclusive rights to broadcast World Cup 2015 in India, Star Sports is offering online live streaming at their website and smartphone apps (Android and iOS). For subscriptions, select a Day Pass or a Week Pass for as low as INR 500 and INR 300 here.
Gazi TV
Cricket fans in Bangladesh can watch World Cup 2015 at Gazi TV website airing live cricket matches via Star Sports 1.
SuperSports
South Africans can enjoy live streaming of World Cup 205 cricket matches at SuperSports website using their TV subscriptions.
Sportsnet
For those in Canada, you can purchase the World Cup 2015 package for CAD 179.99 from Sportsnet to enjoy the live streaming of all cricket matches online.
Sky Sport 3
The official Cricket World Cup 2015 broadcaster for New Zealand, Sky Sport 3 is offering live streaming online here. To purchase subscription, view the available packages here.