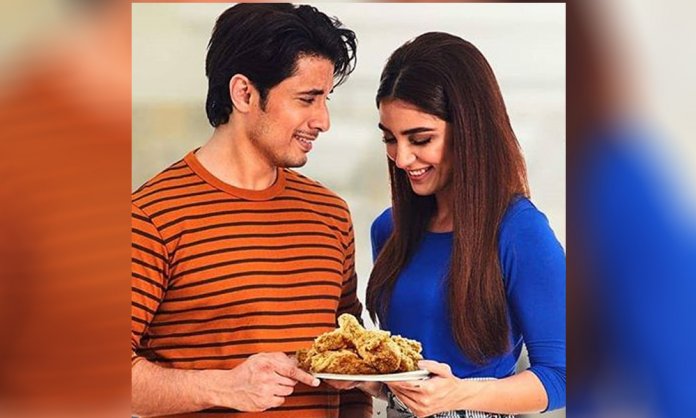 George Bernard Shaw expressed a universal truth,  "There is no love sincerer than the love of food".
Food has power over our mood –  one's favorite meal can uplift our spirits and contribute to a great day. Not to forget 'comfort food' we all turn to after a difficult day. Some great conversations and business deals are sealed over a meal.
Pakistanis take their food very seriously. The menu of the day is always foremost in our minds, be it at the office or a dinner party we have to attend later. Additionally, there are many who enjoy cooking and consider it an art.
When Khaana Becomes a Great Bahana
Very few things have the power to unite hearts quite like food. Whether it is a family sitting together at dinner time or a group of friends getting together after months over lunch, food always creates everlasting bonds.
We came across Kashmir Banaspati's latest TVC, featuring Ali Zafar and Maya Ali, which depicted how 'Khaana becomes a beautiful Bahana' to spread happiness.
Whether it's pleasing a loved one or convincing your companion for an apology, a delicious dish of a home-cooked meal can become the perfect excuse to melt anyone's heart.
An Idea that Worked Wonders
The TVC showcases Ali Zafar as a doting, contemporary husband who is trying hard to woo his wife. Being an amateur cook, he uses food as an excuse to persuade his wife to return home.
His young, ambitious spouse turns out to be a tough cookie, but her husband uses 'Khanaa as Bahaana" to eventually bring her back and prove his love for her.
The emotive campaign realistically described a genuine love equation between a young couple and how food plays a vital role in strengthening their bind.
Who said men can't cook?
Whilst in most TVCs, we witness how the women belong to the kitchen and create an enticing meal for her family. In this particular ad, Kashmir Banaspati has broken stereotypes by putting a man behind the stove.
It is true that women adore men who can cook and actually make efforts to help around in the kitchen. Consequently, the ad shows the husband researching recipes and looking for innovative ways to surprise his wife.
Over time, his ability to cook improves. So much so, his wife actually starts to look forward to his tempting treats.
Marketing Done Right
A 'brand of generations', Kashmir Banaspati has highlighted itself as an essential cooking companion which uses food as a meaningful excuse to create magical moments.
Aired on TV, uploaded to their Facebook and Youtube channel, the TVC has indeed become the talk of the town.
The outdoor branding including billboards, streamers as well as print ads createing a strong recall amongst the target audience.
Radio ads with moving stories of people using 'khaana as a bahana' turned out to be a spectacular move for generating unique engagement with foodies.
A campaign that earned rave reviews
Kashmir Banaspati's TVC starring Pakistan's power-pack pair, Ali Zafar and Maya Ali proved to be an inspiring campaign that has won the internet. The ad grabbed eyeballs on all platforms and created influential conversations.
What's more, Khaana has definitely proved to be the perfect 'bahana' for Kashmir Cooking Oil & Banaspati to make their comeback.
Kashmir has been a household name in Pakistan since 1962. The brand has been a proud pioneer in providing the absolute best products enriched with micro-nutrients (Vitamin A & D). With its portfolio boasting three key variants of Banaspati, Premium Gold and Canola Oil, the brand offers the perfect nutrition for you and your loved ones