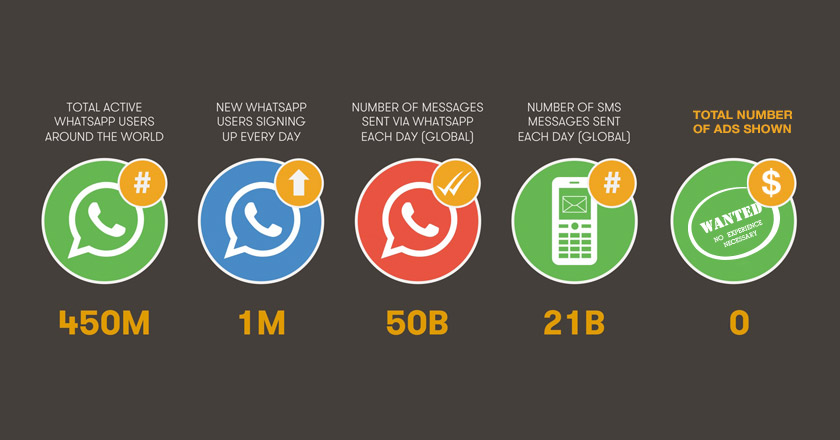 The messaging service WhatsApp, used by 450 million plus users has for long been a no-entry zone for the brands who have eyed WhatsApp vast reach from the sidelines. However many marketing analyst have been curious as to how Mark Zuckerberg will deal with the 'No Ad, No game, No gimmick' motto that WhatsApp have adopted since its inception.
WhatsApp has been in news for the $19 billion buyout by Facebook and now people are wondering how Zuckerberg will ensure a return on this huge investment in the coming days. Although both Zuckerberg and Koum have promised that WhatsApp will function as an independent entity and will remain true to its users, however a recent report from Forbes says otherwise.
It looks like WhatsApp has finally given into the ruthless culture of advertising and is approaching airline brands and Uber, the tech car service to message users. The brands are to pay a sizeable sum for the advertisements, Forbes reports.
This change has raised many eyebrows as many believe that WhatsApp may lose its exclusivity by allowing brands to market their products to its users. WhatsApp isn't the only one to give in to the advertising game; Tango has recently introduced native ads, and Line and through selling virtual stickers contributed to 20 percent of its revenue. TextPride, a service that sells branded stickers on messaging platforms, signed a deal recently with Viber, KIK, Cubie and GroupMe.
See Also: Story of WhatsApp, from Scratch to now richer than an average sized country 
WhatsApp current system to finance itself has been the $1 yearly subscription that it offers for its no-frills messaging service. The initial year is free however it was reported that in 2013 WhatsApp was able to generate only $20 million from these subscriptions.
It looks like young tech companies look to publishing advertisements as their last resort, but have to eventually surrender to the big corporate brands in order to generate sizeable revenue. If WhatsApp does confirm this change then let's hope that its users does not fall victim to useless spamming.