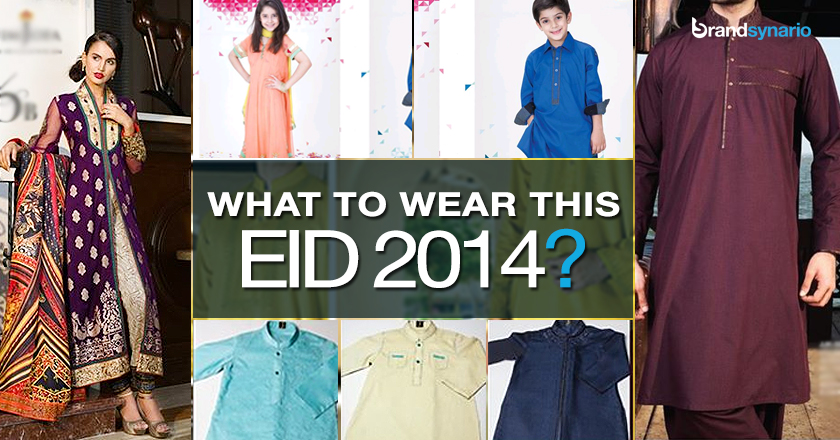 With less than a week  to Eid-ul-Adha, the markets are buzzing with the latest eid clothes collection. For all ages of both the genders, there is a huge variety to choose from, at a range of prices!
Women
While short shirts and cigarette pants are the emerging trend this season, we still see many designers opting for those graceful, long, flowy dresses for Eid. Here are a few top labels to buy your eid dress from:
Ayesha Somaya has some absolutely gorgeous dresses for sale this eid. The tissue and lace dresses with cutwork embroidery, in stunning colors, are priced from Rs. 6000. The designs and cuts featured at Ayesha Somaya are all the latest up and coming fashion trends.
For some affordable options under Rs.4000, Ego has an excellent range of kurtis to select from. Paneled, printed and embroidered on cotton, these kurtis make for excellent choice of dress for teenagers. Pair them up with metallic tights from Nishat Linen and stoles and you are good to go.
Another brand, for stylish chic cuts and minimal work, is Daaman. They have an amazing variety of kurtis to choose from, priced around rs.3000. Paired with statement necklaces and trendy jewelry from Nishat Linen, these kurtis fare for excellent attire during the hectic eid days.
For those who prefer to wear lawn in the hot season, to look stunning even while working during Eid days, Ideas by Gul Ahmed and J. by Junaid Jamshed, present some affordable options. For under rs.4000, the lawn dresses by these labels have some gorgeous lawn prints paired with embroidery and printed chiffon dupattas.
For those with more expensive taste, the Asim Jofa Luxury Lawn is an absolute must have! With stunning digital prints and embroidered shirt pieces, paired with pure silk dupattas, the dresses are priced around rs.8000.
Lawn suits by Sana Safinaz and Maria B. are worth checking out too. They are priced around rs.6000 to 7000, and have a variety of different prints, colors and embroideries to choose from.
Kids:
For kids, both girls and boys, Minnie Minors present extremely affordable options. Priced under rs.1500, the place offers both western and eastern options for kids for eid.
For more traditional options, J. by Junaid Jamshed offer a variety of styles, at the price range of rs.3000 to rs.4000 for girls and under rs.2000 for boys.
For kids, with a little more flair, Nishat Linen has a gorgeous variety of dresses, featuring under Naqsh Prince, Nisha Princess and Eid Range. The price range varies from under rs.1000 to around rs.8000, depending on the fabric and design of the dress. Some of the pieces like the net embellished shirts and the chiffon jumpsuits stand NL out from the crowd.

Men:
For men, a good affordable option is Junaid Jamshed with the variety of kurtas ranging from basic colors like black to more vibrant ones like purple. Priced around rs.3000, the kurta variety includes embroidered ones, printed ones and plain ones too. Another affordable option, with a similar price range, for casual eid kurtas is by Amir Adnan and MaazJee.
For fancier kurta shalwars, Deepak Perwani presents a good range of plain cotton silk kurtas priced around rs.5500, resham embroidered cotton silk ones for over rs.10,000 and plain Boski kurta, priced around rs.15000.
What are you planning to wear this eid?