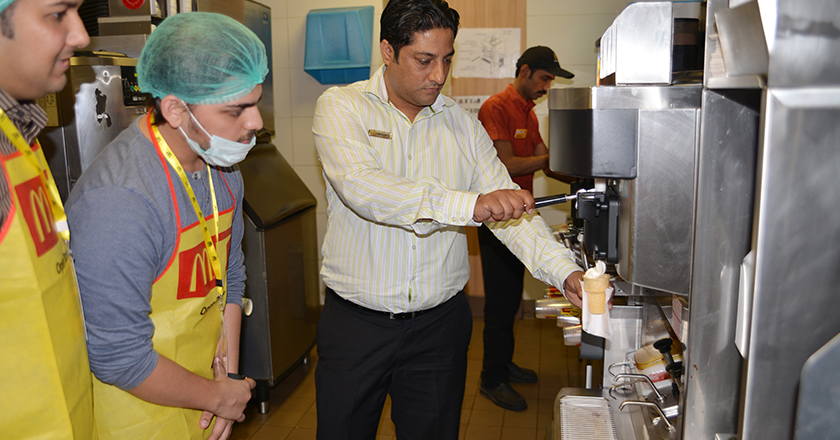 In order to demonstrate their transparency and strictness for hygiene, McDonald's Pakistan invited bloggers to have an up-close look at their kitchens and back-end operations for a tour during the "Open Doors" campaign.
Done for the first time in Pakistan, the small meet up took place at the Clifton branch on Friday on 27th February 2015, from 5 to 7 pm in the evening. The branch manager was himself present to facilitate the bloggers and invitees during the tour.
During the tour, bloggers were able to see how the food is sourced, handled, prepared and served. This program also consists of Virtual Tours of the restaurant's kitchen. Customers can login to McDonald's official website and have a look at how food is processed from their homes.
Here he is explaining the protocols to all the invitees.
During the tour they were informed of the 11 protocols McDonald's follows to ensure that the perfect meal is delivered to its consumers. They observed that several measures are taken to retain freshness of the items stored in the freezers.
Grills and fryers are diligently cleaned to ensure that the famous McDonald's fries and apple pie are the perfect shade of golden.
The most interesting part of the tour was the kitchen. The floors are regularly mopped to ensure that the cooking area is spic and span.
An alarm is set to remind the team to wash their hands every hour. Different colored gloves are used to handle different types of meats and vegetables.
Similarly, separate colored utensils are used for handling different types of meats. One realizes how systematic and organized the kitchen is.
Overall, the experience was satisfying and managed to get ride s of any doubts the average McDonald's customer may have.
This program has been launched in several other countries like USA, Singapore and UAE to name a few. The brand hopes Pakistanis will also enjoy this chance to experience behind the camera action.
If a person is what he eats he must also go ahead and check out how those signature-style McDonald's McBurgers are cooked.