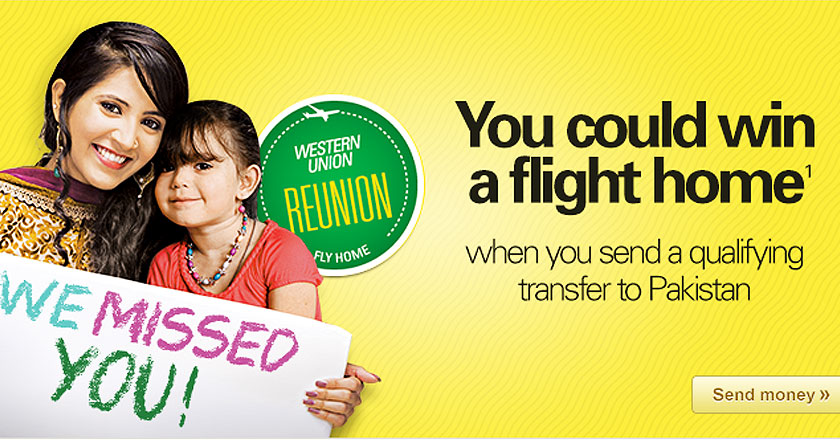 Many a times brands have launched digital, promotional or conventional campaigns, aiming to build the emotional connect with the target audience.
Global brands like Coca-Cola, Dairy Milk and Telenor keep their communication centered on family values and bridging gaps between them.
Western Union this time has also joined the bandwagon by launching a promotional campaign called Western Union Reunion.
Western Union is yet another avidly used service in Pakistan that aims to make money transaction efficient to and from Pakistan. The campaign aims to help people send money to Pakistan from anywhere in the world to reunite with their families.
With the tagline 'Receiving Money in Pakistan Can Bring Your Loved Ones Home', Western Union is establishing the concept of being the bridge between you and your loved ones living away from Pakistan by giving out free tickets to Pakistan.
The procedure is simple, send money from anywhere in the world to Pakistan through Western Union and get a chance to win a free ticket to reunite with loved ones.
Since several other companies and banks in Pakistan let you receive the money sent through Western Union, they get to become a part of the campaign as participants as well. The participants in this campaign from Pakistan are:
• NBP
• GPO
• Askari Bank
• JS Bank
• UBL
• Ravi Exchange
The campaign is entirely a promotional activity, not reaching out to digital platforms as yet, however, making a mark in the world of advertising with this unique idea.
This is a great opportunity for people living here and in abroad to save on traveling expense and get a free ticket to Pakistan!
For more information: Western Union Pakistan Website
Contributed by: Adeeqa Lalwani