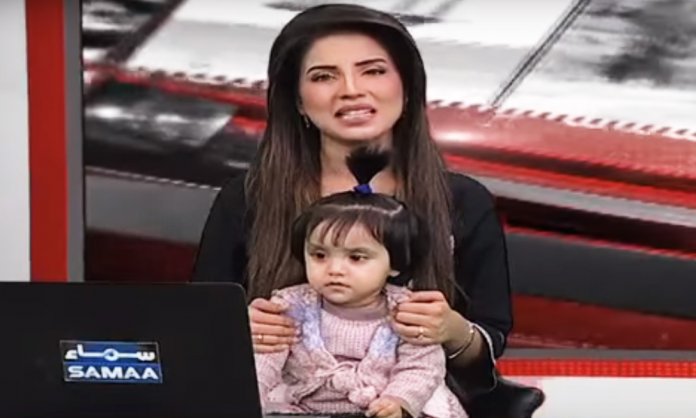 It is rightly said that 'smallest coffins are the heaviest'. The brutal rape and murder of the seven-year-old, Zainab in Kasur has created a massive uproar in the whole of Pakistan.
A wave of melancholy has swept over the entire nation as people are grieving the horrific death of the innocent soul.
Countrywide protests have erupted where citizens are demanding strict punishment to be taken against the heartless animal who killed the minor child.
Celebrities have joined in the outcry and are raising their voice on the crucial matter. Some have taken to Karachi's press club to join the sit-ins. The rest are using the power of media to express their deep sorrow.
Yesterday, Samaa TV's new bulletin on the issue, featuring the anchor, Kiran Naz has become the talk of the town.
The host made a point about how the incident impacted her as a mother by bringing her own daughter on the show.
Imagine the helplessness of a mother, TV anchor Kiran Naz, who brings her own child to her newscast to make #Pakistanis realise the pain of losing your own child. #JusticeForZainab pic.twitter.com/HkQkKH1gZI

— Neelu Mishra (@NeelakandanS1) January 11, 2018
Kiran started the bulletin by saying:
"Today I'm not your host Kiran Naz. I'm a mother and that is why I'm sitting here with my daughter"
Fearlessly, she lashed out at the weak police investigation and the silence of the politicians over such cases.
"The truth is that the girl does not need your justice. She will get justice by her God on Judgement Day when she questions her death and asks her fault"
Many people found her gesture of bringing her own daughter to the show powerful and commendable!
Samaa's Kiran Naz bringing her daughter to broadcast is the most heartening gesture from yesterday. This is how we start to talk openly. This is how we can begin to erase the taboo around using the R word.

— Faizan. (@merabichrayaar) January 11, 2018
Twitterati cannot help lauding her moving speech on the pressing matter!
Powerful and impassioned opening comments by Pakistani anchor Kiran Naz who got her daughter on the show to make a point about little Zainab's rape and murder. https://t.co/At91KVaC8E

— Harneet Singh (@Harneetsin) January 10, 2018
Because of her brave and thoughtful deed, her admirers have grown to manifold!
More power to you @Kiran_Naz_ ! What a terrible tragedy to befall the young little angel – no human being could do what was done to her – RIP lil angel ! https://t.co/isK2zPQAnu

— Manmohan Mehta (@Mannaboutown) January 11, 2018
Not often that you see a TV news anchor bring her own child to her news cast – @SAMAATV 's Kiran Naz did precisely that to make a point about how she felt as a mother in Pakistan #JusticeForZainab #Justice4Zainab pic.twitter.com/SqRYwTV71c

— Asif Ali Bhutto 🇱🇾 (@AliAsifPPP) January 11, 2018
Well spoken #kirannaz Gutsy. Proud to be a woman. No borders here @womensmarch @unwomenarabic https://t.co/pu1BgEQCZV

— neelam mathews (@neelammathews) January 11, 2018
Even BBC has expressed their desire to feature her on one the channel.
@Kiran_Naz_ Hi Kiran, I'm from the BBC World Service. We would love to speak to you today about your broadcast with your daughter. Please let me know if you're interested. Many thanks.

— Emily Horler (@EmilyAntonia) January 11, 2018
Even Zee news is willing to feature her!
@SAMAATV Hi i am from zee news…..we were willing to do beeper with Kiran Naz for doing bulletin with her baby on Zainab rape

— Sundaram Chaurasia (@sundaram333) January 11, 2018
However, some keyboard warriors have slammed Kiran for using her daughter for the sake of ratings!
Anything for TRP Rating.

— ketulkumar (@Ketul1Indian) January 11, 2018
Many pointed out the fact that this tragedy was not the time to create such drama.
What the hell is wrong with @SAMAATV ?? Are we really this mad? pic.twitter.com/YTjkqKKVcy

— Adeel Raja (@adeelraja) January 10, 2018
Some have accused her of going overboard to trigger emotions from her viewers!
Pakistani have innovative drama skills. They turn to bollywood to sell this skill. I've seen many Pakistani TV news anchors who have good acting skills!

— Aswani Sharma (@aswani100) January 11, 2018
Its too much of over reacting

— Rakesh Sinha (@YorkeDancezib) January 11, 2018
Along with all the praises, the backlash too was really strong!
SHAME ON YOU ! @Kiran_Naz_ 😡🖕

— Abbas Syed (@syed_zk) January 10, 2018
Watch Kiran's complete news bulletin on Zainab's rape case here!
What do you think about Kiran's gesture? Let us know in the comments below.