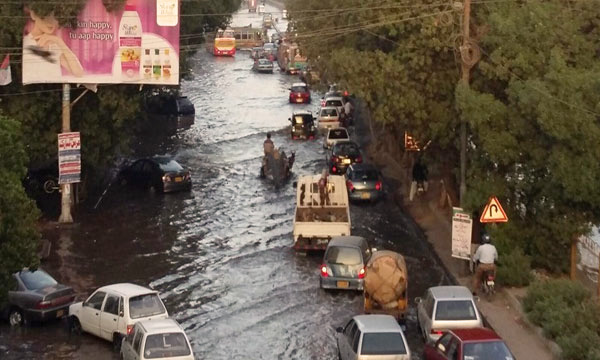 226 views
A water pipeline has burst in Karachi, near the Safari Park in Gulshan-e-Iqbal. A 48-inch diameter water pipeline collapsed, inundating a large portion of University Road and other streets in the area. Water has flooded the main roads of Karachi such as University road, Abul Hasan Isphani Road, Safoora Chowk.
According to the Karachi Water Board, the water has been contained and repair work will begin shortly.
According to Samaa News, if the pipeline is not repaired by evening, Gulshan-e-Iqbal, Abul Hasan Isphani Road, Gulistan-e-Jauhar and nearby areas will face a shortage in the water supply.
Earlier in December 2015, a similar incident occured near Baitul Mukaram mosque in Gulshan-e-Iqbal area – leaving residents worried
PTI Official Highlights Everyday Problems Faced By Karachiites