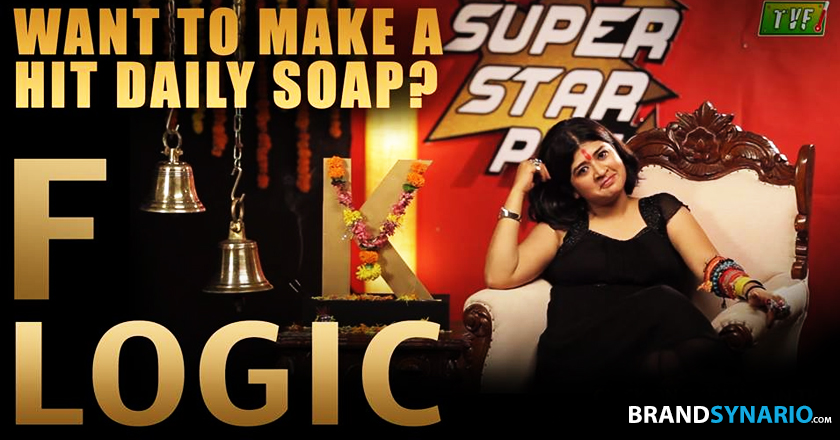 By Zenub Ayaz
YouTube group 'The Viral Fever' has recently released a hilarious take on Indian Soap Dramas. The video is now officially Viral, another Indian group 'AIB' (All India Bakchod) is trailing not far behind in Internet humor.
Viral Fever's founder Arunabh Kumar has also been Farah Khan's directorial assistant in the Shahrukh Khan starrer 'Om Shanti Om'.
'A Decade Long Daily Soap', as the video is named by the makers, is shot on the actual sets of 'Star Plus', where soaps with the longest life span in the world are made.
Watch The Viral Fever Episode 4 – A Decade Long Daily Soap:
The video opens as a channel head seems enraged by the plummeting TRP numbers of the ongoing serials namely; Suhagraat Simar Ka, Chakke Chakke Ka Pyar, Saari Night Naapi Bahuraani Ki Height & Kyuki..S*HA* tops the list with  65 on 10 TRP!
How can soaps be mocked (talked) without talking (mocking) the woman who started it all – Ekta Kapoor? 
The discussion that takes place between the channel head and 'Ekthi' (Ek'tha' Kapoor) is full of humor, sarcasm with a quality of a retrospection of all the television shows in india.
"Some people blame me for making the audience stupid. But the fact is that we as a society are going retard.", says Ekthi Kapoor.
"Anyways, TV is called an idiot box, I am just trying to be the reason for it," she concludes.
What do you have to say about the video? Comment in the section below.