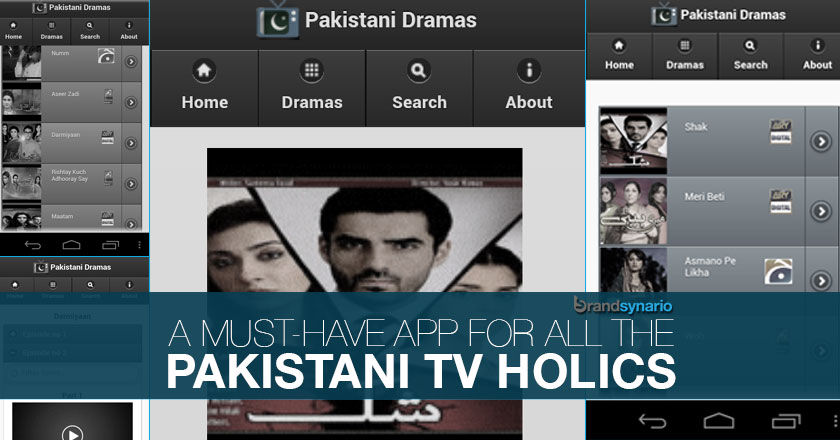 Being an ultimate fan of Pakistani soap operas, one simply can not get enough of our very own overly dramatic yet touching"Desi" entertainment.
On top of it, you can simply not afford to miss your favorite drama(s) due to load shedding or cause of a maddening exam the other day or because your brother is watching his beloved "Games of Thrones" on TV.
Here is where our handy smartphones tend to save our day. The iOS and Android stores now include a couple of apps that enable you to watch movies and programs, both free and at price.
One such newly launched Android app by "Value Apps" is "Pakistani Dramas", apparently stocked with both latest programs and popular dramas of the past.
From current TV dramas like "Muhabbat Subah ka Sitara" and "Bashar Momin" to a couple year old soaps like "Humsafar" and "Meri Ladli" all hot favorite serials are featured in the app.
The links to the drama episodes will either open on your phone browser or on the Dailymotion App if you have it downloaded.
However, the easy to use application appears to be pretty dull, with a boring interface and is also annoyingly slow.
The homepage randomly opens to three shows while the "Drama" tab gives you a complete list of programs in store. The Search option takes you to any of your desired program you want to watch.
But seemingly the Drama and the Search tabs were badly bugged, for they took endless time to load, even showing no results at times and also ended up hanging the phone.
Sadly, the application currently include dramas from Geo, Hum TV and ARY with no sign of any shows from PTV, Express, TV One and AJJ Channel.
Also, from an endless list of dramas from ARY and Hum, there are only few included from Geo as compared to the other two.
Other likely and similar apps on Playstore even offer the old and evergreen memorable Pakistani classics like "Fifty-Fifty Comedy Show", "Anghan Tera", "Tanhaiyaan" and "Ainak Wala Jin"; while the "Pakistani Dramas" app contains none of these.
With a current rating of 4.1, the application by "Value Apps" urgently needs to improve its speed and efficiency and add variety to its present list of dramas. Until then, having it downloaded it's really not much of a good use to your phone memory.