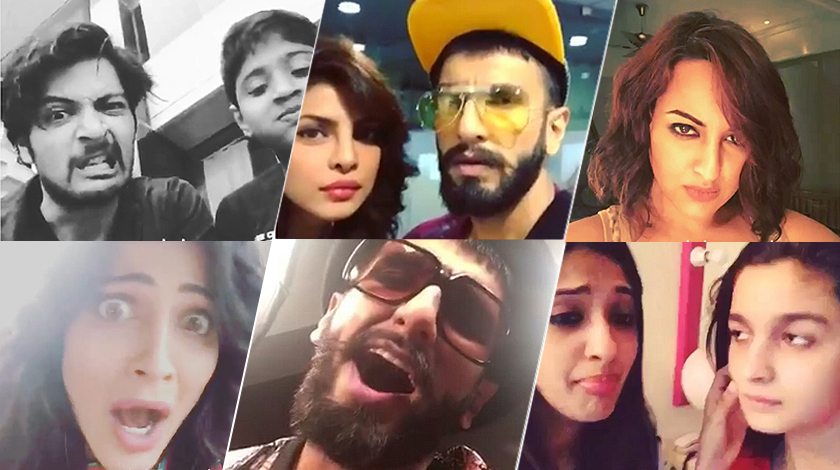 As the selfies craze mellowed out, the world happily hopped over to the new lip syncing fad that Hollywood stars made go viral. Following them now are the Bollywood stars using the latest trending dubbing app, Dubsmash.
For those who don't know, Dubsmash is an iPhone and Android app that allows users to act and dub over a pre-recorded audio of a famous dialogue, song or quotes from a set list.
See Hilarious Pakistani Dubsmash Videos!
The Dubsmash bug bit the film stars recently and they are all making and sharing fun videos with their fans.
Parineeti Chopra, Ranveer Singh and Sonakshi Sinha lipsync to DJ Waley Babu:
Ranveer, Sonakshi and I going madddd !!! TOOOO MUCHHH FUNNNN !!!! @RanveerOfficial @sonakshisinha pic.twitter.com/us6GTrkLYT

— Parineeti Chopra (@ParineetiChopra) January 11, 2016
The latest addition to the list is none other than cricketer Virat Kohli:

The Dabangg actress, Sonakshi Sinha is loving the app so much that she has already shared three different videos of herself acting and dubbing over her favourite dialogues. Her most impressive one so far? The young star copying her dad's ever famous dialogue along with just the correct hand movements!
Next, she moved on to break the first two rules of Brad Pitt's Fight Club.

Following her footsteps was Ranveer Singh with his devil-may-care attitude, absolutely owning the Dubsmash fad.
Priyanka Chopra joined him for his next Dubsmash video, where they switched dialogues from their upcoming movie, Dil Dhadkne Do:

Shruti Hassan, next to be seen in Gabbar Is Back, did a little Gabbar impression herself:

The latest celebrity to join the craze is Aliaa Bhatt and with her friend Dubsmashing a conversation between a mother and a kid who refuses to put on a sweater. This probably has to be cutest and the best one of them all!

Yet another absolutely hilarious Dubsmash video gone viral is by actor Ali Fazal who recently made his Hollywood debut in Furious 7.

Other Bollywood actors to have joined the new trend are Riccha Chadda, going all Gangs of Wasseypur on her fans and Jacqueline Fernandez, lip syncing the famous Dutch song Boom Boom Boom.
Don't know how to use Dubsmash? See it here!