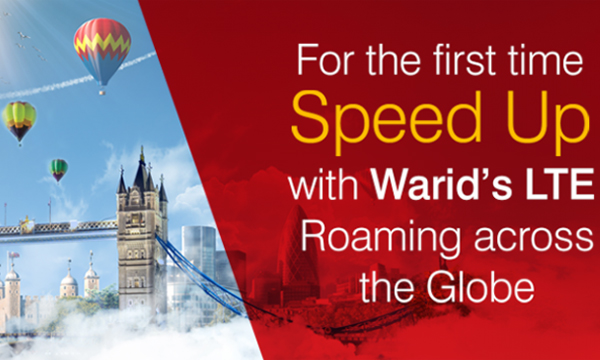 Warid Telecom, Pakistan's most trusted cellular company is facilitating its customer by providing global LTE roaming services for the first time in Pakistan.
Warid Telecom is leveraging the Syniverse IPX Network Solution and Diameter Signaling Services to enable its subscribers to access LTE roaming service around the globe.
Under the agreement, Warid Telecom will provide LTE service to visiting inbound roamers that need to access any of the operator's more than 1500 service locations throughout Pakistan.


LTE has emerged as a critical mobile service in Pakistan as the number of domestic and visiting subscribers has steadily increased over the past few years.
"LTE service has quickly moved from a next-generation technology to a mobile-service standard, and our customers are going to experience LTE speed and capacity anywhere they go," said, Ms. Asma Khan, Director International Business, Warid Telecom. 
"With GSMA projecting that LTE connections will reach nearly 3 billion and over 60 percent of the world's population by 2020, mobile service providers can't afford any mistakes in rolling out LTE," said Mahesh Prasad, Executive Vice President of Sales for Europe, Middle East, Africa and India, Syniverse.
"As one of the pioneers in global LTE enablement, we'll use the expertise we've developed to help ensure that Warid Telecom launches LTE roaming service flawlessly as to provide the highest level of satisfaction to its customers."Syniverse's agreement with Warid Telecom continues string of LTE accomplishments around the globe. Syniverse has enabled global LTE roaming service for more than 130 operators.
Stay tuned to Brandsynario for more updates.