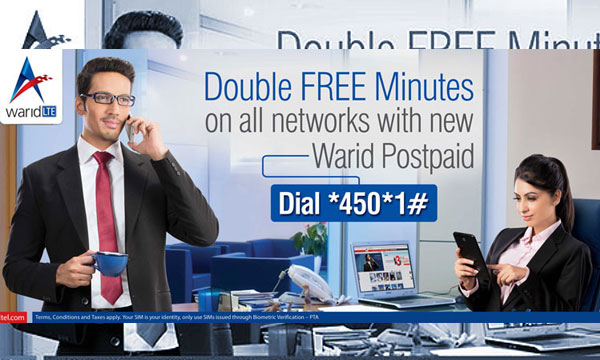 One of Pakistan's largest telecom companies, Warid has introduced another amazing offer, Double Bundle, for its new postpaid and port-in customers.
By subscribing to the Double Bundle Offer, Warid's new postpaid customers, port-in customers and all subscribers switching from prepaid to postpaid, can enjoy double the free on-net and off-net minutes for the next 3 months, absolutely free!
To avail this offer, customers can either dial *450*1#, or text message "Double" to 4000.
Read more: Warid Rebrands Company Culture with 3W Principle
If a subscriber has, for example, 250 free on-net minutes and 250 free off-net minutes as regular bundle package, then with the Double Bundle Offer, he or she can enjoy twice the benefits: 500 free on-net minutes and 500 free off-net minutes, every month for the next three months, at absolutely no additional cost.
It should be noted that the double offer would be split equally between the free on-net and off-net minutes and the offer will be valid on only one subscription. If the subscriber changes his/her package, the Double Bundle offer will not be valid anymore.
Also, the Double Bundle Offer can only be activated once and can be continued on deposit and monthly rental payments.
Read more: Warid Pakistan '10 Years of Pride' Campaign
The Double Bundle Offer is not available for Warid's corporate users, W4000 and existing postpaid subscribers.
For new postpaid subscribers, the old offer, Free for 3, is available too.
With its innovative ideas and customer-centric service, Warid continues to grow as a telecom company. Warid Telecom has currently the largest postpaid and LTE clientele base in Pakistan, with over 100,000 LTE users and 640,000 postpaid subscribers.
Warid was also the first telecom company in Pakistan to adopt the 4G technology and set high standards for others to follow suit.