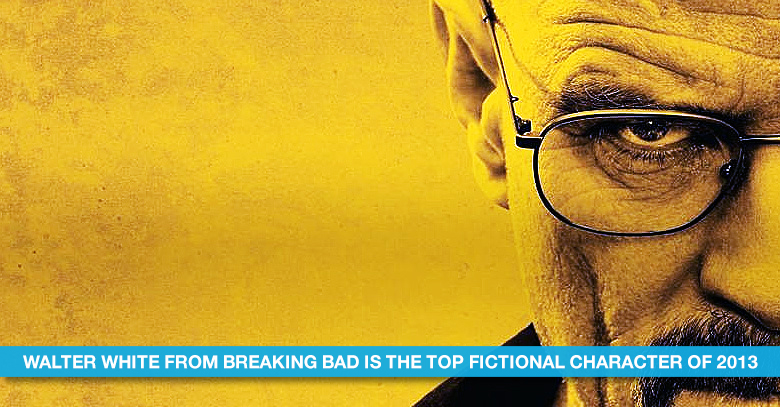 By Hassan Wasti
The year 2013 have been dominated by fictional characters that have made a lasting impact on the fans all over the world.
From the heart racing story of a chemistry teacher turned drug king to a billionaire playboy with a powered suit of armour; fans around the globe have expressed their utmost love and affection for these personalities, so here is our roundup of this years most influential characters.
1. Walter White
Walter White – a name that made its way into the hearts of millions all over the globe, featured in the epic seriesBreaking Bad. Played by Bryan Cranston, the story revolved around an average chemistry teacher who takes on the role of a drug king to secure the future of his family in events of his death. The show had a following of 10.3 million users and made a record breaking television viewership of its final episode.
2. Olivia Pope
Featured in the popular tv series Scandal, Olivia Pope played by Kerry Washington has  became a style statement for many around the world.
The 3rd season premiered to a viewership of 10.5 million fans. Olivia Pope has established a unique brand image for herself in the real world Her signature Crate & Barrel wine glass was a sell out and her trademark white burberry coat was sold at $26000 this year.
3. Katniss Everdeen
Jennifer Lawrence made an impact with the first movie of The Hunger Games saga and this year she made a stronger appearance with the second part. Katniss Everdeen has become a role model for many teenage girls out there.
A strong combination of beauty and brain, Katniss Everdeen has successfully made her place among the most influential fictional characters list this year. She has been the go-to girl for many brands from Nerf Rebelle line of guns, quivers and crossbows for girls to a makeup line from CoverGirl, Katniss Everdeen has done it all.
4. Sophia Burset
Sophia Burset became a fan-favorite on the series Orange Is New Black, her one-liner's and a strong presence has made her one of the most influential characters in television today.
Played by Laverne Cox the character is said to be the most dynamic transgender character in TV history.
5. Carlos Danger
Now, this is one character that shook the political arena in US, a product of an internet scandal Carlos danger was a name chosen by Anthony Weiner to 'hook up' with anonymous women online.
This bizarre character got voted fo our list as it single handedly made an impact in the leading poll of Wiener and had him drop from the first position to the fifth in the race to become the mayor.
6. Frank Underwood
From the first ever original hit series by Netflix the House of Cards comes this quick-witted congressman,Frank Underwood, fans adore his style and his ruthless nature. With a high fan following Frank made the House of cards an internet sensation also helping netflix to shoot up its stocks.
7. Michael De Santa, Franklin Clinton and Trevor Phillips
The famous playable trio from Grand theft auto V made an impactful entry in the market. The game was a sell out with record breaking $1 billion on the first three days. This trio became a quick favorite for the gamers out there for their unique qualities and excessive violence. Also many criticized this trio for encouraging violence in real life.
8. Ron Burgundy
Anchorman 2 has not been released yet but the legend Ron Burgundy played by Will Ferrell continues to live on.  Ron Burgundy made a huge fan following for himself recently starring in a Web Only Dodge ads increasing the monthly sales to 59%.
9. Burka Avenger
The Pakistani superheroine made headlines for being the first ever female superhero in the country. Being internationally acclaimed for fighting corruption and promoting girl's education Burka avenger won hearts both locally and internationally. She has been a success so far and is set to make debut in 60 countries in 18 languages.
10. Tony Stark
It has been five years since the first Iron Man film made its debut, Tony Stark (played by Robert Downey Jr.), still manages to be the number 1 Marvel superhero. Iron Man 3 became this year's blockbuster with the highest collections at the box office ($1.2 billion in ticket sales globally).