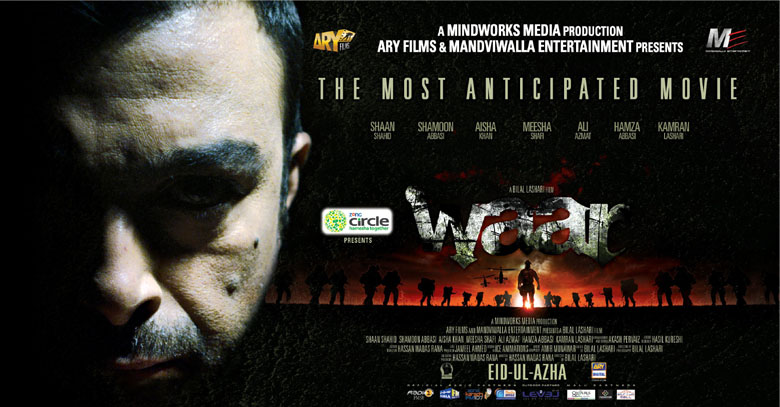 Pakistan's first million dollar Blockbuster movie, Waar is all set to mesmerize the audience in UK from January 17 2014.
According to a schedule posted on the movie's Facebook page, the action thriller movie will be shown in 23 cinemas across London, Newcastle, Birmingham, Manchester, Bolton, Bradford, Sheffield, Leicester, Leeds, Glasgow, Coventry, Stoke-on-Trent, Cardiff, High Wycombe and West Bromwich
Distributed by ARY Films & Mandviwalla Entertainment and directed by the very talented Bilal Lashari, Waar broke many records grossing a total business of PKR 230 million in Pakistan.
The star cast of WAAR includes a mix of industry veterans and some newcomers: Superstar Shaan plays the lead role in the movie, while Shamoon Abbasi, Hamza Ali Abbasi, Aisha Khan, Ali Azmat, Misha Shafi, Kamaran Lashari and Nadeem Abbas Rana make the rest of the cast of the movie.
According to Tribune, there has also been some speculation about the film's release in India. Bilal Lashari said, "I have not approached anyone specifically for distribution in India." Given the theme of the film and the perception that 'Waar shows India as cause of nation's problems', the director says, "I have no idea how people will react, but it would be great if it ends up being screened. A lot of people are saying it's never going to happen."
Waar broke many records in Pakistan, the first one was the record for highest box-office opening on Eid Day, after which it also broke the record set by Shahrukh Khan's 'Chennai Express' of PKR 9 million on its first day, opening on Pakistani Silver Screen.
The movie was released on 42 screens across Pakistan and beat the box office record for an opening day take of Rs11.4 million.
Elated by the success of Waar, Mandviwala Entertainment has already announced the plans to make Waar 2.