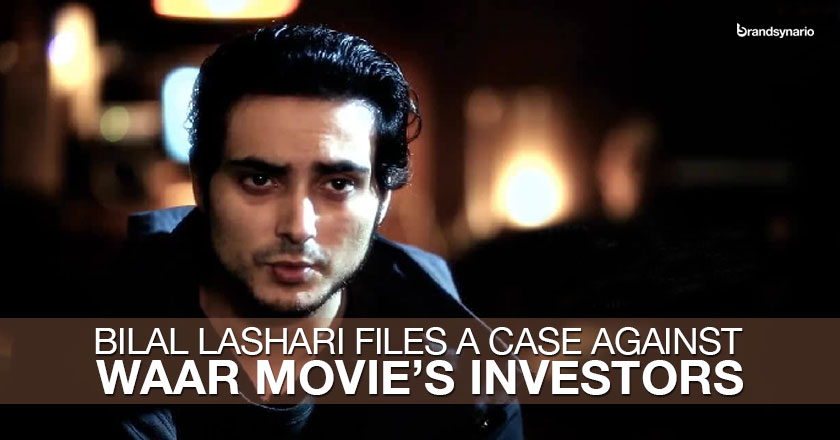 By Fatima Akhlaq
The record breaking revenue of one of the most popular Pakistani films, Waar, has become a bone of contention between the investor and the director, Bilal Lashari.
The director of the movie, Bilal Lashari had filed a FIR against the investor of the movie, Hasan Waqas Rana.
According to reports, the investor has refused to give the due share of the profit to the director of the film, Bilal Lashari and instead, deposited all the revenue in his personal account.
In the FIR filed with the Kohsar police, Lashari stated that he was a partner of the investor in the film but Mr Rana deposited Rs 200 million in his account, refusing to share any part of the earnings with the director.
In addition Bilal Lashari told that the film was made with a budget of Rs 60 million, while it did a overwhelming business worth Rs250 million. As per the agreement, Hasan Waqas was to share 25 per cent of the profit with the director.
"MrRana told me that the payments from the cinemas and companies have been delayed. However, I found out later that he wrote a letter to the dealers, asking them to transfer the revenue in a separate account. I got the letter and the details of payments transferred in his personal and company accounts,"Lashari claimed that the investor had changed his mind once the film began to generate good profits.
He further said that he had planned to remake the classic 1979 film MaulaJatt but this attitude discouraged him from investing in energies in the field of showbiz.
While on the other hand, Hasan Waqas Rana said that the film was to be completed in 45 days, as per the contract. However, Lashari took three years to make Waar, which increased the expenses manifolds.
"I paid Lashari Rs15 million for his job but when the film was completed, he e-mailed me and threatened to delete the film if I do not share 25 per cent profits with him," he said.
"The fact is that I have not received all the amount of the film. Moreover, Lashari received many awards for the motion picture but never disclosed who was the investor of the film," he added.
Investigation officer Mansha Hussain said that he was unable to contact Mr Waqas. However, he will try against once the security situation rumble down in a few days.
With Shaan Shahid in the leading role, the 2013 film broke multiple records in Pakistani film industry. The story line of the film revolved around war against terrorism and its effects on Pakistan.
The rift between the two main forces also led to Bilal Lashari's absence from Waar 2 – the sequel movie; Mr. Lashari is currently busy shooting the remake of  'MaulaJutt'.