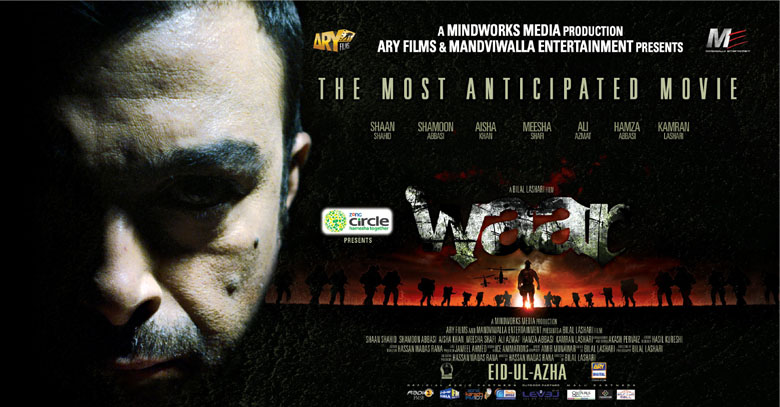 "We opened the advanced booking for Waar in ATRIUM just a day ago, and already it has crossed a million rupees" – Nadim Mandviwalla of Mandviwalla Entertainment – the official distributor for the movie.
The much anticipated movie Waar premiered on Eid Day, 16th October, and all the 42 screens which premiered the movie were booked in advance. As a result, Pakistan's biggest action-thriller generated revenue of staggering 11.4 million.
Accumulating the box office collection for the first three days of business, Waar has grossed over PKR.42 million and counting. It is worth noting here that the first three days were also public holidays on account of Eid ul Adha.
The weekend, which was also the fourth and fifth day of Waar's screening it achieved 'House full' advance bookings in all the major cinemas of the city, and its collections are still to be accumulated in WAAR's piggy bank.
Waar broke many records in only its fifth day of screening. The first one was the record for highest box-office opening on Eid Day, after which it also broke the record set by Shahrukh Khan's 'Chennai Express' of PKR 9 million on its first day, opening on Pakistani Silver Screen.
If Waar's spree continues, the Pakistani action-thriller may as well break Chennai Express's record for all time high first week's collection. In fact Waar's progression is considered to be so grand, that critics believe it will meet Main Hoon Shahid Afridi's total earning, in its first week of business.
Cinematic scholars also predicts that Waar will cross the grand figure of PKR 100 million soon, as its total collections may as well accrue a couple of tens of millions more. Only time will tell the total aggregate business of Waar, but for now the only certain fact is the 'House Full' sign placed on every show of Waar for the next couple of days.