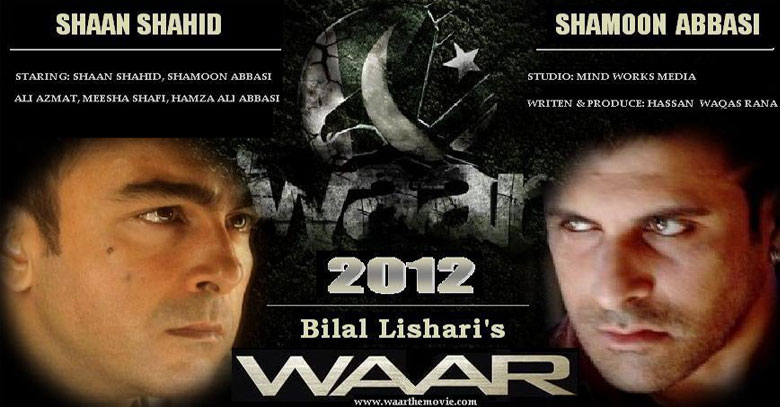 With its theatrical trailer making internet debut more than a year and a half ago, WAAR has undoubtedly been the most anticipated movie of Pakistani Silver Screen. The movie made the headlines again as its release date was reported to be finalized finally, somewhere in late September this year. The Venture is produced by Mind Works Media and shot in collaboration with Inter-Services Public Relations (ISPR).
Based on Actual Events, the action drama revolves around Pakistan's role in the war against Terror. The story unravels further when a massive terrorist attack threatens Pakistan, and the hopes of the country fall in hand of a veteran played by Shaan Shahid.
In 2011, when Shoaib Mansoor's 'Bol' made it to the Silver Screen of Pakistan – it bought something much more than fame to the Pakistani Cinema – it brought hope. Hope that there is appreciation for Pakistani filmmaking, if carried out with class, even in the overwhelming lights of Bollywood.
Directed by Bilal Lashari, a graduate of the Academy of Art University in San Francisco, WAAR can be the next inspiration for the Pakistani film industry. Infamous for making some of the best rated music videos, Lashari also assisted Shoiab Mansoor in some of his major projects including the movie 'Bol'.
Along with MindWorks Media, WAAR has been co-produced by Hunt Lowry, producer of "Donnie Darko" and Warner Brother's smash hit "A Walk to Remember", thus making the movie one of the heftiest projects of the country.
With rumors of being released under the banner of Warner Bros, the movie is estimated to have crossed the production budget of PKR 170 million.
The star studded cast includes some of the most renowned celebrities of the country including Shaan Shahid, Ali Azmat, Misha Shafi and Shamoon Abbasi. The movie trailers and sneak peak, has reminded the audience of the class of these artists and why they are clichéd to be the only actors in Pakistan.
The 140 minute feature film has got the Pakistani audience on its hook with its Patriotic Trailers and impressive cinematic excellence. The film fanatics cannot seem to get enough over boasting the movie, even before its release.
To be fair, the branding of this action-packed venture has been carried out in an impressive way; with its promos living up to every expectation, with its uncompromised class and immaculate execution.
The only drawback seems to be the perfectionism of Lashari that has prolonged the release of the movie for about two years now. Movie fans can only hope and wait for what can be called the most awaited movie of the country.