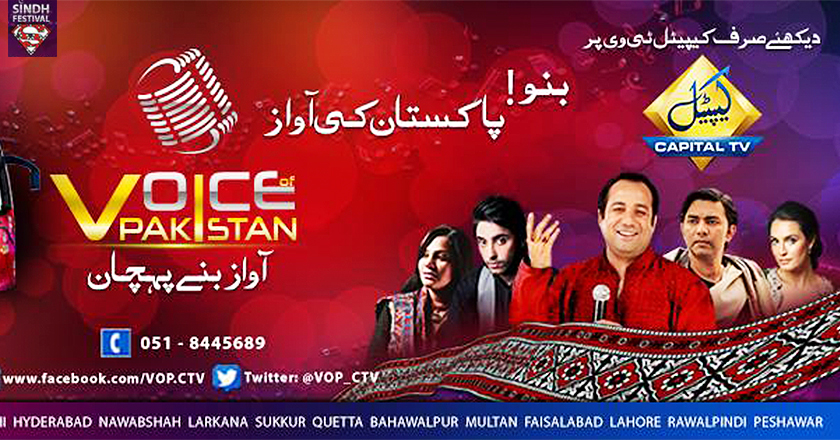 Following the success of Pakistan Idol, a new show by the name of "Voice of Pakistan" is making its way into Pakistani Music industry through "Capital TV".
The music industry of Pakistan seems to be getting more and more interesting with time. Voice of Pakistan has just began its search of young talent from various universities and colleges.
This show aims to uncover the hidden talent in the Pakistani industry that has not yet gotten a chance to reach the media platform.
Voice of Pakistan will be hosted by the famous actress, host, entrepreneur and model Nadia Hussain, who certainly promises to add glamour to the show. Moreover, the 3 deserving judges of VOP unlike those of Pakistan Idol, include the legend Sajjad Ali, the superb vocalist Sanam Marvi and the brilliant composer and singer himself,Amanat Ali, giving a feel that the show will be judged much better than Pakistan Idol.
No doubt, the previous talent hunt shows like Pakistan Idol itself, have been targeting a specific audience that might not have deserved to be on stage, while denying acknowledging the actually talented contestants, like Maria Mir & Naveed Khan for instance.
The show will be aired on Capital TV and the participant's initial screening will take place from different university and college students. Also, unlike the initial screening of "Pakistan Idol" the VOP screening will not be done by any interns or inexperienced people but instead Amanat Ali himself will travel with the crew in search of "the Voice".
Initially, 32 contestants will be screened from the lot who will get the chance of their lives to perform in front of the VOP judges for their final selection.
Schedule
The full schedule of the show can be found as below:
Although this is the fourth season of Voice of Pakistan yet still, it is the first to be promoted properly; Pakistan Idol, should have learned from the procedures of this show, it might have helped them to be just in their selection of actual Pakistani talent.
Kudos to Voice of Pakistan, for taking such a good and fair start.