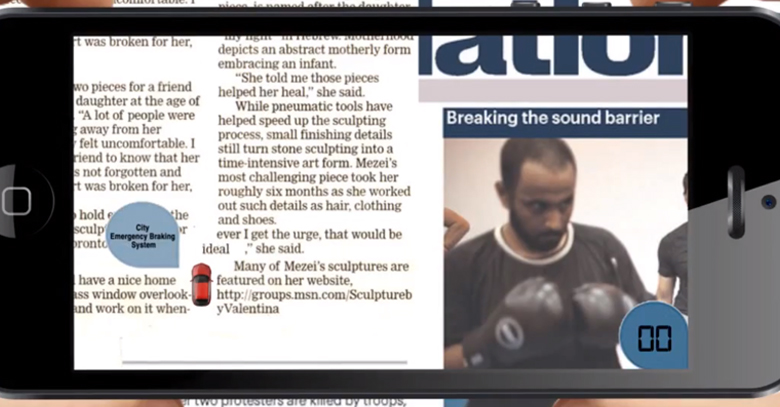 Volkswagen (VW), the Premier German car company, has a legacy not only of producing exemplary automobiles, but awarding its viewers with advertisements that are epitome of creativity and innovation.
Yet again, the company played its strongest card and got us awestruck by developing an engaging newspaper application to promote the features of its new car 'Up'.
Using the conventional newspaper gutter space to go the 'unconventional' way, the company used the QR code technology to let the users virtually drive on the spaces between the newspaper content.
The way to access this interesting application is quite simple. When users scan the QR code, they are directed to the Volkswagen 'Up' App. They are then, given a chance to choose their favorite color for their 'Up' from black, white and red; and off they go, exploring the contours which they would never have imagined to.
On every turn or hurdle, the application highlights what features of 'Up' can facilitate you. After you have enjoyed the ride, the app offers you to share your experience on Facebook and Twitter, so that even your peers get a chance to experience this fusion of a traditional medium with modern flavor.
This is not the first time that VW has come up with a breath taking advertising campaign. The company always mesmerized the audiences with promotions that stand out from the crowd.
The trend dates back to 1959 when their 'Think Small' campaign blew away the audiences, winning the No.1 Campaign in the Advertising Age's 'Century of Advertising' in 1999. The most popular variant of the Think Small advertisement featured a bare background, with only the VW Beetle in view, to channel the readers focus to the vehicle immediately.
This was followed by the all-time favorite 'Lemon' campaign, which persuaded the entire America to use the word lemon for poor quality cars.The tag line "We pluck the lemons, you get the plums" spread like fire among the automobile lovers. From rendering Frank Sinatra's 'My Way' in its latest ad to promoting the its fuel-saving Start/Stop technology as a boon to future generations, VW has paved its own way in the hearts of the masses.
Volkswagen hits a bull's eye through this ad by amalgamating out of the box thinking with origins of print media. Keeping the 'honest' and 'original' image of the company in view, the company surely knows how to strike a chord, resonating its vision with finesse.
The application has an extremely rejuvenating and unique feel to it. Once you play the game, you definitely go for it the second time.