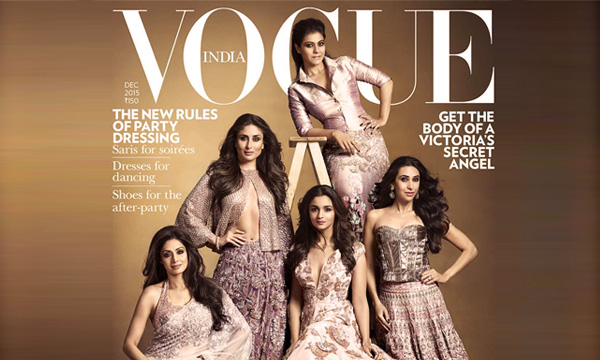 Indian Actresses Kajol, Alia Bhatt, Kareena and Karisma Kapoor and Sridevi appeared on the Vogue cover dressed in Malhotra ensembles. 2015 marks 25 years of Manish Malhotra in the fashion and entertainment industry.
Much like Hollywood Reporter's annual Actress Round table November cover, the top 5 Indian actresses have graced the cover of Vogue India this December.
See the cover below:
December's issue focuses on the designer and his success story in the Indian fashion industry.
More than the impressive roster of clients and star patrons, a 100-crore business, multiple awards and 1,000-plus movie assignments, the designer's greatest success after 25 years ruling the twin worlds of film and fashion.
Watch the video below:
Credits:
Styled by Anaita Shroff Adajania;
Photographed by Tarun Vishwa;
Hair: Gabriel Georgiou/Anima Creative Management (Kareena, Karisma, Alia, Kajol), Tina Mukharjee (Sridevi);
Make-up: Rosario Belmonte/Anima Creative Management (Kareena, Karisma, Alia), George Kritikos (Kajol), Subhash Shinde (Sridevi);
Jewellery by Nirav Modi