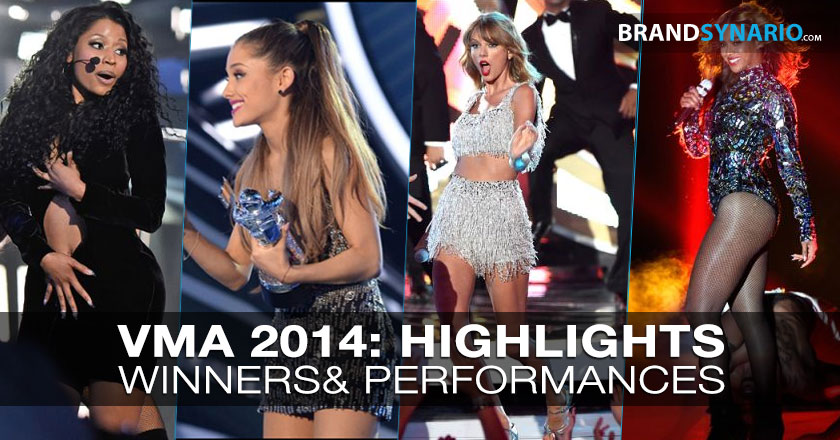 By Zenub Ayaz
As expected, MTV video music Award 2014 was a roller coaster ride of controversies and glamour. 
Ariana Grande and Big Seans' hook up, Miley Cyrus shocked everyone again! Amber Rose wore practically nothing at the event, Kim Kardashian's a little-too-revealing-dress and lastly Blue Ivy's oh-so-adorable clapping for her mommy dearest.
All this is not even half of what transpired last night.
VMA – MTV Video Music Awards, as known to all is one the biggest and most awaited award ceremonies.
Presented by MTV, VMA is considered as an alternate to Grammy Awards, honoring the best in the music video category. VMA is often branded as "Super Bowl for youth", enticing millions of music lovers from all age groups who come together each year revealing the best musical celebration of the year.
The first VMA ceremony was held in 1984 at New York City's Radio City Music Hall. Each year VMA brings the most exciting and unusual of event.
Likewise, this year the award ceremony was full of such astounding incidents
Miley Cyrus shocked the crowd by sending a young homeless man on stage to accept the award for Video Of The Year.
Taylor swift's off the stage dance performance, along with her most entertaining act.
Have a look at the hottest happenings of the night in gifs:
Beyonce saved the show with her stunning performance
and those oh-so-perfect curves!

Then there was Miley Cyrus bawling over the stunt that she pulled this year. 
Taylor Swift gave a superb off-stage performance until..
She was asked to perform on-stage!
Finally there was Nicki Minaj whose deliberate wardrobe malfunction stunned the audience!
Amidst these highlights were the lucky winners:
Katy Perry won early for Best Female Video for "Dark Horse," while Ariana Grande also snatched a statue to kick off the night by winning for Best Pop Video.
Lorde also continued her amazing breakout year by winning Best Rock Video.
The big winner of the night was Miley Cyrus, who won Video of the Year for "Wrecking Ball" and let a young boy named Jesse accept the award and give a speech about homeless youth, while she teared up during his heartfelt message.
Here's the full winners list:
VIDEO OF THE YEAR
Iggy Azalea ft. Charli XCX — "Fancy"
Beyoncé ft. Jay Z — "Drunk in Love"
Pharrell Williams — "Happy"
Sia — "Chandelier"
Miley Cyrus — "Wrecking Ball" — WINNER
BEST HIP-HOP VIDEO
Eminem — "Berzerk"
Drake ft. Majid Jordan — "Hold On (We're Going Home)" — WINNER
Childish Gambino — "3005″
Kanye West — "Black Skinhead"
Wiz Khalifa — "We Dem Boyz"
BEST MALE VIDEO
Pharrell Williams — "Happy"
John Legend — "All of Me"
Sam Smith — "Stay with Me"
Eminem ft. Rihanna — "The Monster"
Ed Sheeran ft. Pharrell — "Sing" — WINNER
BEST FEMALE VIDEO
Iggy Azalea ft. Charli XCX — "Fancy"
Beyoncé — "Partition"
Lorde — "Royals"
Ariana Grande ft. Iggy Azalea — "Problem"
Katy Perry ft. Juicy J — "Dark Horse" — WINNER
BEST POP VIDEO
Pharrell Williams — "Happy"
Iggy Azalea ft. Charli XCX — "Fancy"
Jason Derulo ft. 2 Chainz — "Talk Dirty"
Ariana Grande ft. Iggy Azalea — "Problem" — WINNER
Avicii ft. Aloe Blacc — "Wake Me Up"
BEST ROCK VIDEO
Imagine Dragons — "Demons"
Arctic Monkeys — "Do I Wanna Know"
The Black Keys — "Fever"
Lorde — "Royals" — WINNER
Linkin Park — "Until It's Gone"
MTV ARTIST TO WATCH
Sam Smith — "Stay with Me"
5 Seconds of Summer –"She Looks So Perfect"
Charli XCX — "Boom Clap"
Schoolboy Q — "Man of the Year"
Fifth Harmony — "Miss Movin On" — WINNER
BEST LYRIC VIDEO
Katy Perry — "Birthday"
Demi Lovato — "Really Don't Care"
Austin Mahone — "Mmm Yeah"
Ariana Grande — "Problem"
5 Seconds of Summer — "Don't Stop" — WINNER