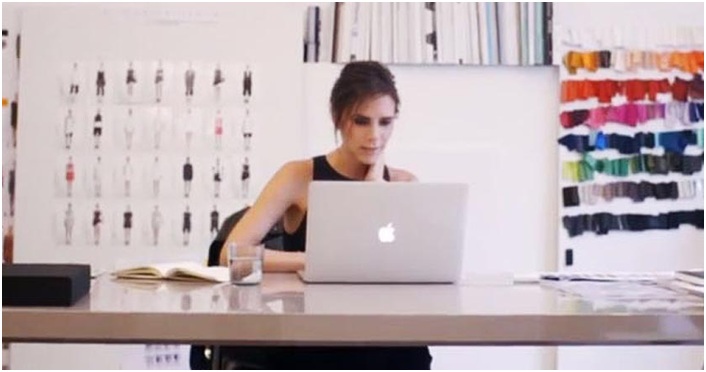 Who wouldn't want to nose around the life of the glamorous and sensational, Victoria Beckham?
From a remarkable singing career to an accomplished fashionista, a perfect wife and mother; Victoria Beckham's life has indeed been one picture perfect journey.
But the ride to success from a Spice girl to an established designer has been quite a bumpy one for our Lady Beckham.
And now, she provides her fans with a peep to her inside world with the documentary, titled "Five Years – The Victoria Beckham Fashion Story".
Collaborating with Skype, David Beckham's super successful wife is taking a new step forward by filming an interactive fashion documentary that will reveal behind the scenes tale of her globally popular fashion brand. 
In the sixty-second teaser to the documentary, the former Spice Girl opens up about her struggle in the fashion industry, which included leaving behind her girl band image forever.
"I've always loved fashion," she says. "I was that kid who used to watch her mum get ready and just think 'wow, you look amazing".
She adds, "I always dreamed of designing a collection, it was always my passion. I was a Spice Girl, married to a footballer; I was trying to do something that no one had really done before."
Moreover, Skype has played an integral role in Victoria's rise to fame.
In an interview to Telegraph in 2010, Beckham revealed, "Most evenings, I'm curled up in front of Skype in my dressing gown, speaking with my studio in London. I travel a lot; my team travels a lot, but I wouldn't have it any other way."
Her longstanding relationship with Skype has led the Microsoft owned company to a new endeavor into fashion
"In just five short years, Victoria Beckham and her team have built a hugely successful international fashion brand", Skype wrote on its blog. "A journey which Skype is proud to have played a part in enabling."
The release date of the documentary is still a secret. Nonetheless, everyone is really excited to get their hand on the inside scoop to personal and professional life of Queen Beckham.