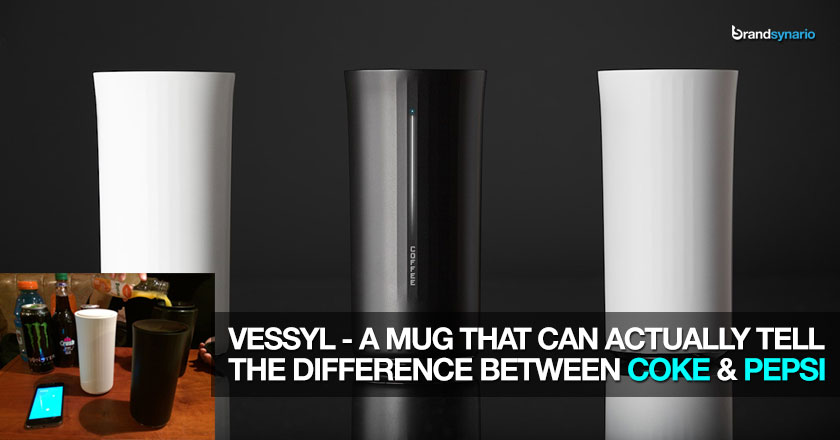 Most of us are conscious about the calories we consume; Mark One is going to make our life easy with its new product, 13 oz (385 ml) extraordinary mug, which will allow us to analyze the beverage we are drinking identifying it by name, determining what it is and how healthy it is for us, thus, giving us an alert that it is the high time to put our mug down.  
All we need to do is, sync the Vessyl with the smartphone through Bluetooth. Vessyl displays this information while sending it to a companion smartphone app automatically which allows tracking the intake throughout the day.
The app can then be made to show specific details, such as the amount of caffeine, protein, fat imbibed for the day, the quantity of sugar ingested, or the amount of calories consumed.
Justin Lee the idea generator of this amazing Vessyl says it can tell the difference between strong and weak coffee. As you go about your day, the device tracks how much you're drinking, and when you tilt Vessyl to its back, it displays a bright blue line that rises and falls to signify your hydration level. It can even determine what the beverage is, with enough accuracy to differentiate between Sprite and 7up.
Vessyl can prove to be very handy if one needs to achieve his goal of losing weight,"As you use the Vessyl, it's going to learn more about you and your consumption habits and patterns, but the main goal is to actually help you make healthier and more informed decisions in real time," says vice president of health Mark Berman.
According to its website, the smart cup will not be shipping until early 2015. But Vessyl is currently taking pre-orders at PKR 9800, and will have a final retail price of PKR 19700.