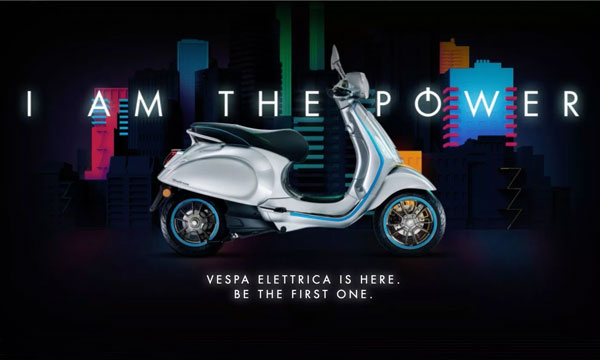 Piaggio Group on Monday announced the Vespa Elettrica, the first electric scooter by the company. Now, it can be booked exclusively online until November at a staggering $7,332!
The long-awaited Vespa Elettrica is now available for online bookings until November.
The green version of one of Europe's most popular road scooters outperforms traditional 50 cc scooters in the areas of acceleration and hill starts thanks to the power unit delivering 4kW, which is "assisted by the dynamic performance typical of electric engines."
In additional to producing zero emissions, it is completely silent and rides with no vibrations like its gas-powered counterpart; but that comes with some compromises.
The lithium-ion battery allows for a maximum range of 100km (about 62 miles) when on a full charge, about three-times less than the diesel version. Charging takes four hours, but that time can be slightly reduced as a result of an efficient kinetic energy recovery system that "recharges the battery during deceleration."
This model was first officially announced back in November 2016 and took two years to reach the market. An electric scooter may have seemed like quite an innovative concept at the time of the original announcement, but since then, various models have popped up all over the world as shared transportation options. With the introduction of public scooters in urban areas, the success of the Vespa Elettrica is uncertain.
Widescale sales of this Vespa will commence in November starting in Europe, followed by the USA and Asia in early 2019.
At $7,332 (or €6390), the Elettrica is roughly $2,000 more expensive that the Primavera 150 cc, one of Vespa's top-selling models. If you're willing to wait, however, the hybrid Elettrica X is also expected to make its debut this year bringing together the range of a gas-powered scooter and the environmental benefits of an electric vehicle.
Customers can pre-book their Elettrica at vespa.com.