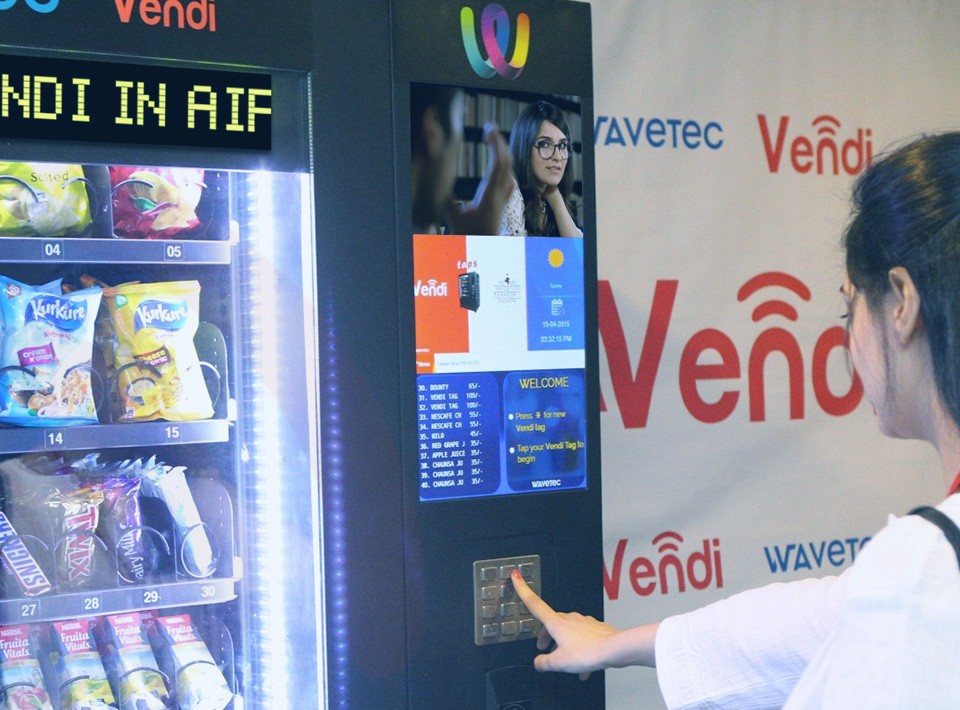 What is the best thing to do when you're bored at work or need a break from the usual office hustling and bustling? Or when you're sitting with your school friends in between class breaks?  You either take a quick stroll through your office floor, for a quick smoke or set out to have a quick snack. Or if you're in an educational institution, you sit down for chit-chat sessions while sharing bags of chips or packs of cookies or just about anything that tastes good.
Food, in these situations, is the common entity, and our life would be incomplete without these 'boredom' snacks.  More often than not, the quest to get these snacks forces you to go on a mini-expedition to the canteen or cafeteria that just seem too far away in times of hunger.
Food should ALWAYS be easily reachable and nonchalantly accessible.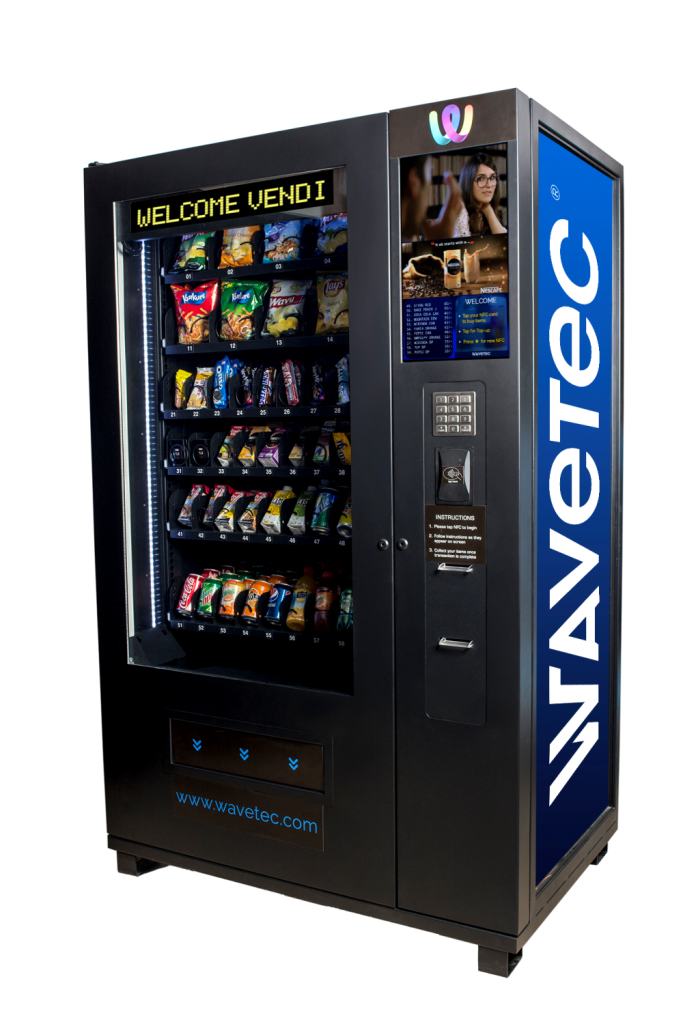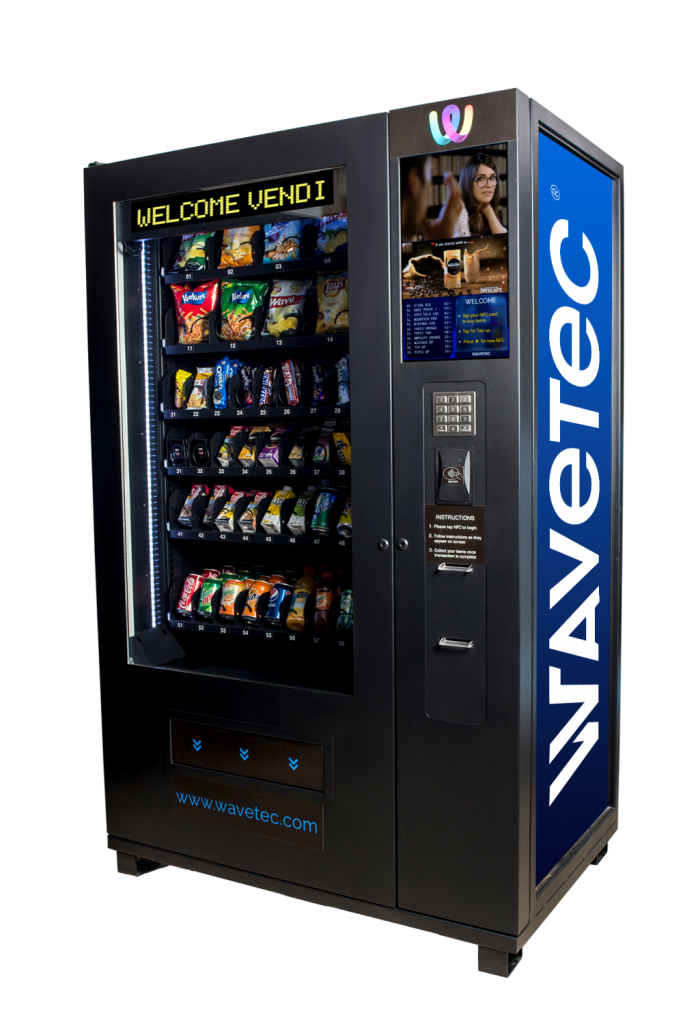 Wavetec, a multinational tech firm, with its headquarters in Dubai, has introduced Pakistan's first ever Near Field Communication (NFC)-enabled vending machine that brilliantly solves this unusually painful student/officer dilemma, which has been coolly titled 'Vendi'.
Developed in Karachi and officially launched in April 2015, the six-feet tall, three feet wide, and three and a half feet deep, Vendi can hold up to 350 snack items and beverages.
The marketing strategy for Wavetec was to initially target the younger, technologically proficient audience, and that is the reason why educational institutes were the first places where the vending machines were installed, after which the corporate offices received the same.
Initially installed in 10 colleges and offices, the NFC-enabled vending machine is now present in the Asian Institute of Fashion Design, Institute of Business Administration (City Campus), PAF-KIET (City Campus), SZABIST, Nixor College, Indus Valley School of Art and Architecture, Karachi School of Art, Habib University, Newport Institute, Beaconhouse School System, Headquarters of Samaa TV, Shell Petrol Pumps, United Bank Limited, Jubilee Life Insurance Head Office, and Dubai Islamic Bank.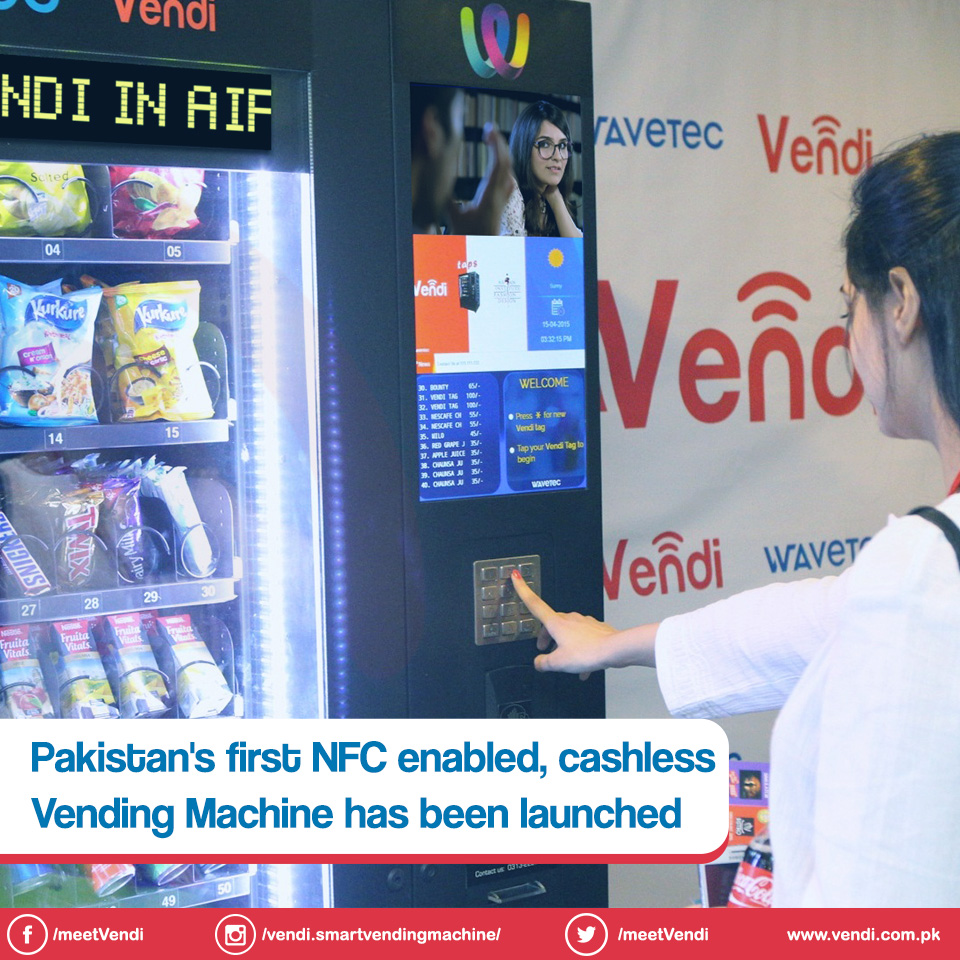 So how does Vendi work? The process to use this special, cash-free machine is simple.
1) First-time users are required to register their phone numbers and get their NFC tag, or Vendi tag.
Here is how they can do it.
[Pictures courtesy of Official Vendi Website]


Once registered, the user can simply tap their tags, choose the snack item of their choice, which is then dispensed out of on a tray, and tuck away!

The tag can be stuck to the covers of a phone, or can be safely put away in wallets, and effectively acts as a prepaid card. Once the transaction is done, the user receives a confirmation message on their phones about their completed transaction.
The NFC-tag requires to be recharged, once the prepaid balance finishes, a process which barely takes two minutes.

Vendi comes with a user-friendly multi-functional interface, and Wavetec hopes to include an option for the users to recharge their mobile phone accounts in the future too, a step that would add to the convenience of using Vendi for students and office employees alike!