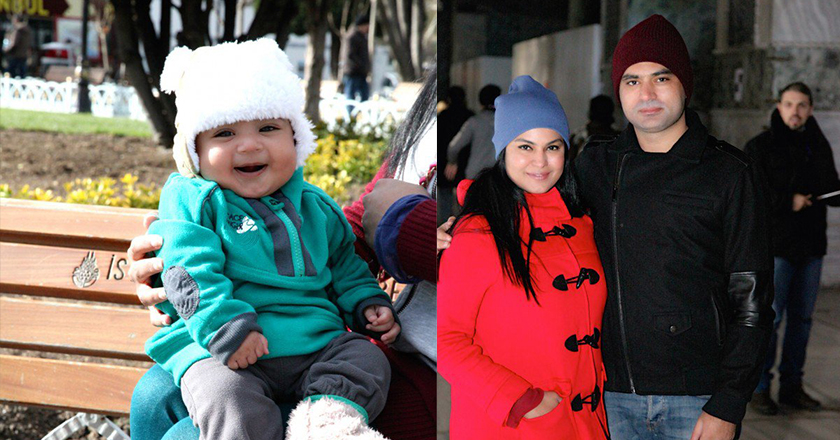 Sometimes it is surprising how a certain attention-seeking celebrity who could never cease herself from hogging the limelight is out of the news for so long.  Veena Malik is back in the spotlight, this time around with news about her husband. Veena Malik's husband, Asad Basheer Khan is all set to make his debut as a singer in Bollywood.
The Express Tribune has conducted a telephonic interview with the famed actress to find out more about this news. The actress has claimed that her husband is all set to create an impact by his entry into the music industry of Bollywood.
Currently residing in Dubai with her husband, Asad and her seven-month-old son, Abram, Veena has answered some questions and given an insight into her new settled life with family. In regards to her future plans, she stated"Though a globe trotter, after ten days or so my husband and I will be performing Umrah with both sides of the extended family members included. Later, we plan to travel to Australia where Asad will be presenting and participating in a seminar."
Read more: Veena Malik to Launch Production House with Husband Asad Khan
According to the actress, this break from the media centre-stage has given her the opportunity to focus on developing the various aspects of her personality and character which have not been highlighted by the media ever before.
She elaborated by saying, "I was at one time doing showbiz, along with some charity…. but the charitable aspect of my personality never got noticed. Two things have always been closer to my heart, women empowerment and children's rights; I will now be focusing on that. In these two years, I have grown a lot, I have become a mature person who is at peace. I also have different perspective in looking into things now, these two years of my life have been most blissful and very transformative. Also, I believe, to keep the sanity intact, it was necessary to touch bottom, everything has been a blessing in disguise."
Read more: Veena Malik's Son Abram Khan – The New Trend on Twitter
Later on, her husband also made the statement regarding Veena's plan of action and what her recent activities have been, "We have launched Veena Asad Khan Foundation in the United Kingdom. It's an NGO that will address the issues of poverty alleviation, medical needs, women empowerment, and will offer basic necessities of life to the needy. We have just recently officially launched it in the UK. In the summers we are planning a visit Pakistan where we will focus on the growth of this NGO."
Regarding her transitioning into this new life, of parenthood and domestic caretaking, from the tinsel-town's glamorous lifestyle, Veena has this to say, "Its beautiful, it feels normal now…I led a life earlier on which was larger than life. When I first started off in the world of showbiz I was hardly 14 years old. Now I am able to lead a normal life. Asad is a loving and caring husband. Besides him, my son is our top priority, he keeps me up all night, though, but that's my son for me. Life has become very engaging for me, now."
In relation to her comeback in mainstream media and television, Veena said that, "Nach Baliye (popular Indian TV dance show) approached us. However, I couldn't do it. There are 14 couples, altogether in the show, but no visits to the families were allowed. It had to go on the floor in April. My son is still very young, just seven months old. I asked them if I could take him with me, even Asad was very concerned. Since I don't have a nanny for him. He is the first thing we see in the morning and the last before going to bed. So it was obviously a big no no. Hopefully in a year I would be back in the world of showbiz. Meanwhile, Asad has got a lot of offers from Pakistan. We are keenly family oriented people, both of us."
Since her appearance in Indian movies and the Indian reality show, followed by her controversial actions, Veena Malik has had one controversial action and then another to her name. It is a refreshing change to see her in a different and comely situation in her life. For how long will this peaceful life be continued by Veena is yet to be seen.