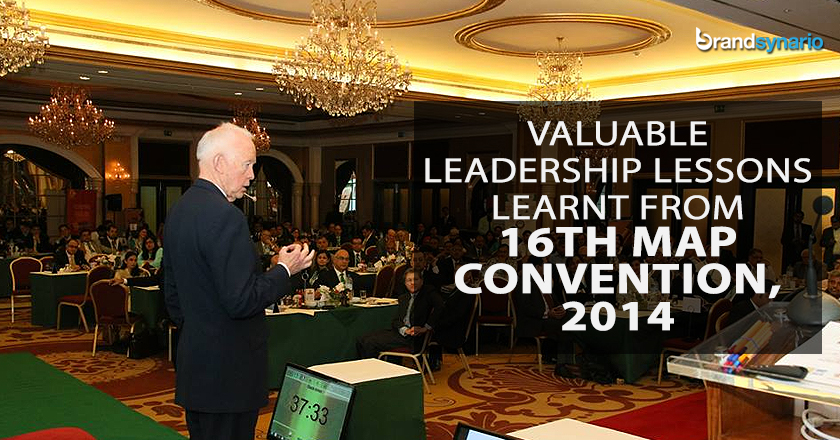 At a time when the nation is questioning the current political leadership, being part of a prestigious event solely dedicated to corporate leadership in Pakistan was not just a learning experience, but presented a ray of hope and optimism too.
(MAP) Management Association of Pakistan organized its 16th convention at Movenpick Hotel Karachi on September 1st, 2014.
The two day conference focused on the big idea of 'RE-THINK MANAGEMENT' attended by an influential gathering of businessmen from across the country and international speakers.
The event reinforced the need for innovating management practices and re-thinking contemporary management styles for the future success of businesses.
Brandsynario got the opportunity to be a part of this amazing learning experience, courtesy EBM and Dr. Zeelaf, Chairperson, Executive Management Board. 
Here are some thought provoking lessons learnt from respected speakers at the convention that will help every manager in improving individually and as an organization.
1. Re-think: Innovation, 'It's All in the Thinking
Tony Buzan – Author, Educational Consultant and the inventor of 'Mind Mapping spoke about innovating our way of thinking and how creatively one can think thus utilizing the brain at an optimum level. 
An interesting piece of information shared by Mr. Buzan was the inverse relationship between creativity and our age level. Discussing the relationship of creativity with age, he explained that the younger you are the more creative you get to be.
According to Mr Buzan, the following Interesting Steps Will Make Our Thinking Processes Better
1. Day Dreaming For Constructive Thinking And Brilliant Ideas
2. Use Of Colors To Take Notes And Increase Recall Ability 
3. Thinking Innovatively Because Normal Is NOT Natural 
4. Mind Mapping Is The Key To Innovative Thinking
5. Energy + Memory = Creativity Infinite
2. Re-think – Leadership, Leading Minds
A panel discussion on 'Re-thinking Leadership and Leading Minds' included some of Pakistan's established leaders who shared their years of experience and learning on how to be a better leader in Pakistan.
Some points worth noting included:
 "Transformational leadership is about making employees think and believe they can do the inconceivable." – Ali Hasnain, Group Executive, Retail Bank, UBL
"A leader should be mindful of the rapid development and is someone who is able to recognize emerging patterns of change. We need to identity that it is that we are going to lead. Every employee should feel like the captain of the boat, a higher sense of purpose is what drives human beings." – Dr. Zeelaf, Chairperson, Executive Management Board.
"There are no text book solutions and a leader is a person who leads people who are professionally better than him." – Kimilhide Ando
"A good leader has the capability of capturing your attention." – Nadeem Naqvi, KSE
3. Re-think Technology, Get Smart!
Furqan Qureshi – SEVP- Commercial, PTCL enthralled the audience with his dynamic presentation on reconstructing the usage of technology in leadership.
According to Mr. Qureshi:
1. There will be as many as 40 to 80 billion connected objects by 2020
2. There will be 10 connected objects for every man, woman and child on the planed
3. Everything is becoming a thing, the internet of things, sometimes referred to as the INTERNET OF OBJECTS will change everything- including ourselves
4. There will be an age of information overload where everyone will face the challenge of SIFTING through information
5. There is so much information about us online that personal privacy may be a thing of the past.
6. The internet gave us the opportunity to connect in ways we could never have dreamed possible. The internet of things will take us beyond connection to become part of a living, moving global nervous system.
4. Re-think Communication, 'New World, New Voice'
The most interesting session of the conference was led by Lucy Cornell, Chief Inspirational Officer, Voice Coach.
The interactive session emphasized on the use of our vocal tones to connect and inspire people around us. Lucy's amazing energy combined with the audience's enthusiasm made the session a hands-on learning experience.
According to Lucy, as a leader, you have the privileged opportunity to change the world. With that comes the responsibility to voice your vision with integrity and power to bring about this change.
Lucy helped the audience to invoke their voice, body, heart and mind to deliver business content with inspiration to truly connect with audience.
Few key lessons from Lucy's session included:
1. Speak with the primal instinct to connect not just with the minds but with people's emotions too. 
2. Decide what reaction you want from your audience and set your tone accordingly.
3. Speak not just with words but with your body and breaths 
The conference ended with an insightful session on Re-think Work-Life Balance, New Age Lifestyle conducted by Dr. Zsuzsanna Fajcsak and Naeem Zamindar who is the Founder of the Art of Living.
The aim of the 16th Map convention was to make it imperative for contemporary leaders and managers to rethink and embrace the idea of being innovators and undoubtedly, this yearly meet up proved to be beneficial not for the managers  but also for organizations and the nation, at large.