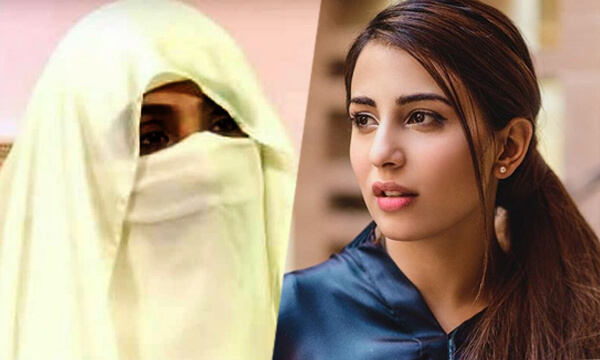 On Thursday, the whole nation watched Bushra Bibi speak to a private news channel as the First Lady of Pakistan.
Where many people praised her confident yet simple persona and the way she spoke about Imran Khan, there were many who didn't seem impressed at all.
Bushra Bibi's Interview With Hum News: First Lady Shuts Down Trolls on TV
Ushna Shah seems to fall into the latter category as she took a dig at Bushra Bibi in one of her recent tweets.
Taking to Twitter, the Bashar Momin actress poured down her thoughts in a satirical way and gathered the attention for the day.
Moral after First Lady interview: when Oxford education doesn't work. Captaincy in World Cup doesn't work. Cancer hospital doesn't work. Namal doesn't work. Dharnas don't work. Try Baba Farid? 😕

— Ushna Shah (@ushnashah) September 29, 2018
It looks like Ushna referred to a common perception among many people that Bushra Bibi is, somehow, responsible for the success of Imran Khan and PTI, in the General Elections of 2018 due to her spiritual background.
After mentioning all the things Imran Khan has accomplished so far in his life, Ushna equated them to marrying someone like Bushra Bibi, or "Baba Farid" as she wrote herself, as nothing else seemed to work out for our new prime minister.
Imran Khan & Bushra Manika's Visit to Baba Fareed Goes Viral!
Ushna Shah ignited fury among many IK followers and looks like her tweet just got backfired!
"Your brain doesn't work" came out as the popular opinion!
Ma'am
After reading it i came to know that
Your brain doesn't work
😀😁😁🤣😁😀

— imkhan (@iloveazadi) September 30, 2018
Some were clearly disappointed by her tweet!
Huh seriously delusional tweet. He won world cup as captain, his cancer hospital@is in two cities giving treatment. Third one in karachi under construction. Namal is an awesome college giving free education and boarding to less fortunate. Very sad tweet. Ppp is ur party BUT???

— Sana Khan (@sanakhan_BN) September 29, 2018
Some took the chance to comment on her acting skills!
Drama mein aap ki acting doesn't work

— saadamjad (@saaddon00723) September 30, 2018
Some think that the concept of a spiritual side is not something we should make fun of!
Wish you get your spiritual side soon bcz you don't get the concept unless you get it urself when you will get it you won't be making fun of baba Farid rather everything in the world would look meaningless be it Oxford or Oscar

— Mehvish Khan (@KhanPakmehvish) September 30, 2018
A very shameful tweet from you madam. Have zero respect for you.
Do you even know who is Baba Farid???
Jab banday ko pata na ho to aewin bat nae krte.. go and have some knowledge then talk😠😡

— Sameen Khan (@durrisameen) September 30, 2018
I think such libetards' only problem is a burqa clad first-lady of Pak! That's y, they r disturbed. Can't digest the fact easily as they themselves believe in skin show, day in & day out😡

— Tweety🇵🇰 (@tahir_cme) September 30, 2018
And she lost some of the fans as well!
Disappointed by such judgemental statement by u ,I was ur fan but u know u have to rethink when Canadian national is just full of hatred about what's happening in Pakistan . a completely misinterpreted message . she by no way discussed this she said first Allah n deen E Muhammad

— FilmiBlog (@BlogFilmi) September 30, 2018
When this argument heated up, Ushna Shah asked her followers to note the sarcasm in her tweet, that was perhaps hidden somewhere between the lines.
Note the sarcasm 🙄

— Ushna Shah (@ushnashah) September 29, 2018
But it was too sarcastic to be understood by many!
What's your opinion on Ushna Shah's remark on Bushra Bibi? Let us know in the comments below.
Stay tuned to Brandsynario for more updates and news!