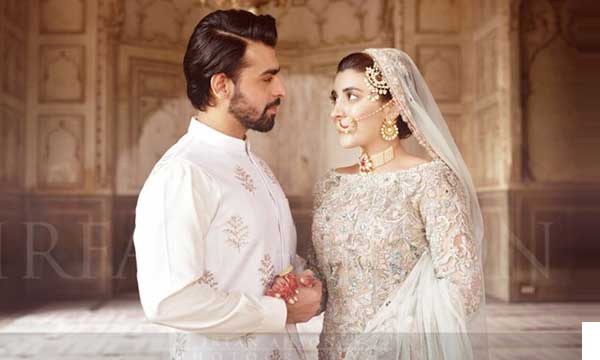 The ultimate celebrity wedding of the year, Urwa Hocane, and Farhan Saeed's marriage was all Pakistan was talking about in the previous week.  So much so that #UrwaFarhan was trending like crazy on all social media platforms! Of course, the credit goes to the die-hard fans of Urhan!
Apparently, the couple had seized all the limelight for their dreamy reception, lavish dholkis, a roaring bridal shower and a majestic Nikah ceremony.
Well its all #UrwaFarhan over my insta!

— Maha Siddiqui (@Maha_is_Siddiqi) December 19, 2016
Everybody's having so much fun at the #UrwaFarhan wedding I feel left out.

— Rutaba Tanvir (@rtnvir) December 18, 2016
A whole lot of celeb hobnobbing happening at the #UrwaFarhan wedding tonight; here are the bride… https://t.co/92ZJPu8fee

— Maliha Rehman (@MalihaRehman) December 18, 2016
Exclusive glimpses from all the extravagant ceremonies, taken by the expert photographer, Irfan Ahson were going viral on the internet!
Everybody was binge-watching the dance videos of the Hocanes & Saeeds!
Wallaaaaah *___* #UrwaFarhan 's reception pictures and videos are love 😍 @VJURWA

— 🌸 (@fatimazahir8) December 18, 2016
Their wedding bash was quite a fairytale affair!
Even though I'm not a fan of Hoccane sisters or big weddings, the #UrwaFarhan wedding & their unbridled joy is making me happy. #MashaaAllah

— A- (@layphroo) December 19, 2016
Some people just could not stop gushing over the bridesmaid, Mawra!
The best thing about #UrwaFarhan wedding was Marwa. So pretty

— mrs @beingsalmankhan (@beingtigress) December 20, 2016
The rest were ogling over the billion dollar look of the bride and her sister
Best thing about #UrwaFarhan wedding was that Faraz Manan lehnga Mawra wore! Everytime she swirled😢 i was like look at that BOMB LEHNGA!😍 pic.twitter.com/45BaBzPSLX

— Ayesha (@Ash_Ayesha) December 19, 2016
And then, Fawad Khan's surprise entry at the valima made it even more rocking!
Look at him from any angle, khoobsurati gets magnified from each one of them 😍😍 that's #FawadKhan ❤❤#UrwaFarhan pic.twitter.com/jWvUteOKDE

— ❤SoM❤ (@crazy4fawad) December 18, 2016
Some people were actually envious!
I can't take how amazing the #UrwaFarhan wedding is

— Saf (@SafunaM) December 19, 2016
The rest were all happy wishes for Urwa!
Such a happy bride is goals #urwafarhan

— Em (@berraghark) December 18, 2016
Well really, if you want some serious next level ideas for your wedding raise than keep an eye out for the #UrwFarhan photos on Instagram. 
Stay tuned to Brandsyanrio for more updates!