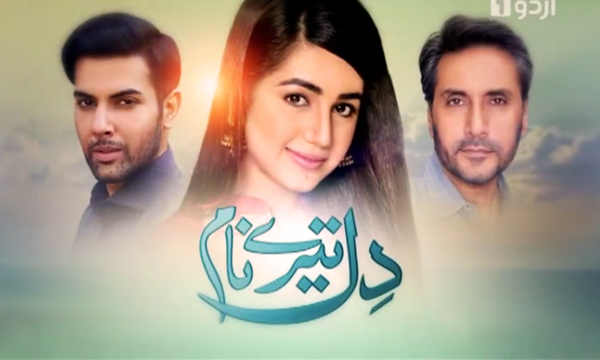 Dil Tere Naam is Urdu1's latest drama serial starring Adnan Siddiqui, Anam Fayyaz, and Noor Hassan in the lead roles. Directed by Misbah Khalid, DTN is a story about a woman in love who faces tough circumstances in life and ends up marrying a man she didn't like before. Read on to watch the Dil Tere Naam OST.
The Plot:
Manahil is a young orphan girl who lives with her uncle's family. Her uncle Adil and his wife Naureen treat her like their own daughter. Adil's real daughter Neelam is also very fond of Manahil.
One day, Adil's family accidently meets with a young tycoon Khayam and his family. Despite being rich and very successful, Khayam has a vacuum in his heart. His father committed suicide after Khayam's mom left them for her lover. He has developed a fear of love and despite all the efforts of his elder sister and brother in law he is not ready to get married. His encounter with the innocent and lovely Manahil makes a great impression on him.
Meekal who is the son of Adil's childhood friend comes to Pakistan for an engineering job. Because of his jolly and gregarious nature, he becomes part of Adil's family. Soon, Meekal falls for Manahil. Manahil becomes aware of her cousin Neelam's infatuation with Meekal and she distances herself from Meekal.
In the meanwhile, Khayam's family asks for Manahil's hand in marriage for him and Neelam becomes aware that Meekal and Manahil are actually madly in love with each other. She becomes consumed with jealousy and asks for her mother's help.
Naureen, a pious woman, has always treated Manahil as her own daughter but finding love for her own real daughter overcomes the virtue of piety and she compels Adil to accept Khayam's proposal for Manahil.
Watch as the story unravels only on Urdu1.
OST:
Timings:
Dil Tere Naam airs on Mondays at 8:00 PM only on Urdu1.
Characters:
Manahil: A beautiful and innocent girl. After the death of her parents, she was raised by her paternal uncle Adil and his wife Naureen. She is in love with Meekal but at the same time she is a traditional girl. She has a deep sense of gratitude towards her uncle and his family as they have become her family after her parents' death.
Khayam: A young business tycoon who is lucky in everything but love. He has great qualities of head and heart. He is selflessly in love with Manahil, who later becomes his wife.
Meekal: A true prince charming. He comes to Pakistan from the USA for an engineering project. Meekal and Manahil fall madly in love with each other.
Neelam: Manahil's cousin. She is emotionally immature and somewhat possessive. She has an infatuation for Meekal. Her jealousy gets the better of herself and she comes between Meekal and Manahil.
Naureen: Manahil's aunt and Neelam's mother. She is a God-fearing and pious woman. She is old fashioned and believes in traditional values. Love for her own daughter makes her do a horrible injustice to Manahil. Afterwards, her guilty conscience makes her bed ridden. Manahil's magnanimity brings her back to life.
Adil: Manahil's uncle. He is a family man, very loving but gullible. He is protective but at the same time he believes in giving freedom with appropriate boundaries to his daughters.
Samina: Khayam's mother, who divorced his father and left them to marry with her first love. She is very untraditional and courageous woman and pays a heavy price for her bold choices. At the final stage of her life, she is a woman torn between the love of her life and her estranged children.