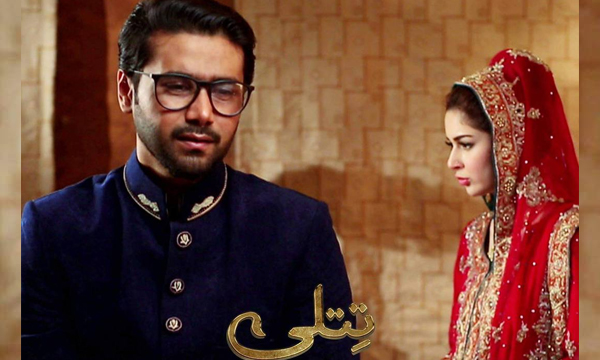 479 views
While there are many drama serials based on social issues, we often ignore the little evils that reside in our society. Urdu1's Titli is based on a true story that aims to highlight the real beauty of the person comes from the inside rather than their outward appearance.
The drama stars Hania Amir as Naila and Ali Abbas as Ahmed. Hania Amir plays a horrid person who is very egotistical and materialistic. She has really proved her acting chops as Naila and performance have been praised by fans.
In episode 5, we see Naila stoop to a new low as she is willing to sacrifice her sister's happiness just to get even with Zimmi for rejecting her. Zara's mother is already not happy with the match and argues with her husband to stop the engagement because Zara deserves better. Nusrat (Naila and Zara's mother) wants Zara to be married to someone as wealthy as Ahmed.
While Zara is happily getting ready for her engagement, Naila instructs her sister to refuse the proposal otherwise she'd divorce Ahmed. Zara, heartbroken and devastated, does as Naila instructed. Zimmi knows that it's Naila who forced the breakup including her father and brother, but Zara doesn't blame her sister for it. On top of this, Naila misbehaves with her in-laws yet again and Ahmed doesn't know how to deal with it.
Oblivious to her sister's misery, Naila goes to her honeymoon in Paris while Zimmi moves out of the house at Zara's request.
In another sub-plot, Ahmed's younger brother Amir is getting married to Kiran, who is a very good natured and a compassionate girl. While wedding preparations are in full-swing, Naila stays aloof of the hullabaloo. Ahmad very kindly asks Naila to be a part of it but she fiercely declines. She also disproves of Ahmed organizing his younger brother's honeymoon or spending on him ever again.
In the next episode, we see Naila secretly seeing someone and Ahmed confronting her about it. The story is starting to pick up the pace and things seem to be deteriorating between the two. The drama stars veteran actors Abid Ali and Naeem Tahir. Ali Abbas and Hania Amir's spectacular performance is not to be missed.
7 Reasons Why Upcoming Urdu 1 Drama 'Titli' ft. Hania Aamir & Ali Abbas is a Must-Watch!
Contributed By Adeela Akmal