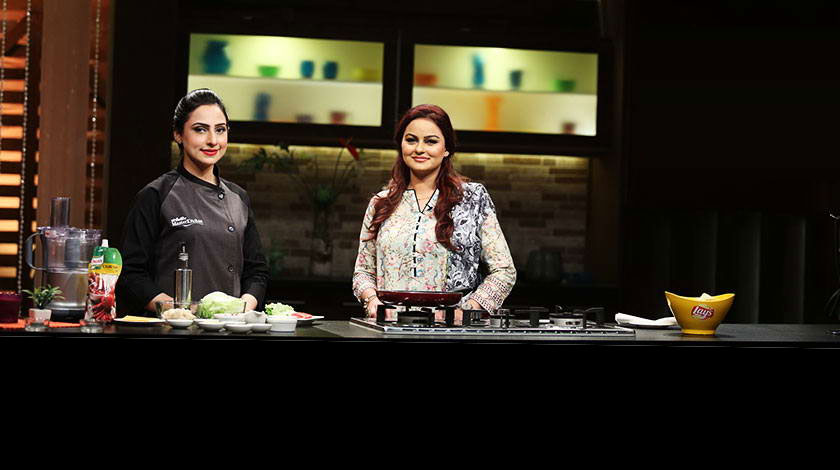 After successfully raising the culinary industry standards in Pakistan, Urdu1 is back with another cooking show, titled, Master Kitchen with Ammara.
The televised masterpiece will be especially broadcasted during the festive month of Ramazan on the following timings:
Timings 
5:00 PM  (Fresh)
3:00 AM (Repeat 1)
12:00 PM (Repeat 2)
All set to be aired during the primetime hours of Ramzan, and hosted by the gorgeous TV host and actor, Javeria Abbassi, the show features Pakistan's first MasterChef, Ammar Noman.
Watch our exclusive interview with the show's host, Javeria Abbasi here:
According to Urdu1, the show will not just feature regular cooking and recipe tips instead, it will be a pleasant blend of interesting cooking tips, guest celebrities and promotional evenings.
The first ever winner of MasterChef Pakistan, Ammara Noman is going to introduce one Ramzan-special as well as 3 other dishes per episode. All of these recipes are going to be included in Ammara's upcoming cookbook which is going to be launched soon.
Check out some BTS Shots from the show here: 
The show will have celebrity guests in each episode including exclusive personalities who do not frequently make interview appearances such as the hilarious BNN guys, Hanif Rajput, Anoushey Ashraf, Humayun Saeed, Deepak Perwani, Fahad Mustafa and others.
The show will also include lifestyle-based tips on diet, nutrition, beauty and fitness.
Set on a beautifully built indoor kitchen studio, the show will also award special prizes to its viewer through interactive question and answer sessions. Follow Master Kitchen with Ammara and tell us your views about the show in the comments below!