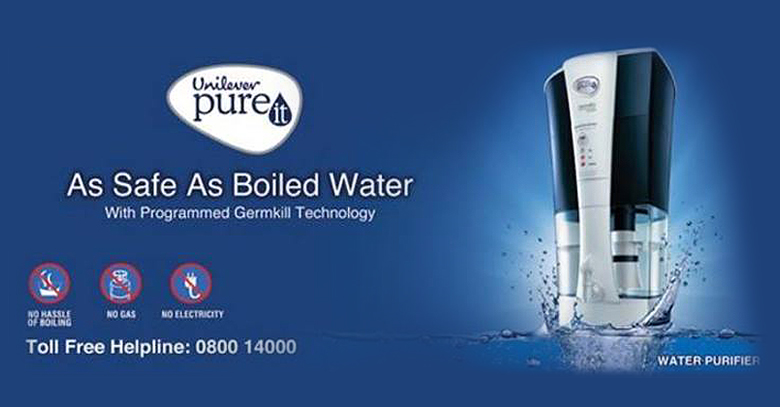 By Ufaq Ashfaque
Keeping up with their mission of sustainable living, Unilever has launched Unilever PureIt – a unique water purification device that utilizes modern technology to provide safe and clean water without the use of electricity or gas.
Pureit has been specifically designed to give maximum protection from germs, bacteria and virus through its 5 purification steps. It also allows a remarkable "Programmed Germ Kill Technology" to provide odorless natural tasting water for as low as Rs 1 per liter.
The Pureit device was revealed by Ehsan Malik Chairman and CEO, Unilever Pakistan Limited (UPL) at the media launch event.
While talking to the media Ehsan Malik said, "15.9 Million people in Pakistan currently don't have access to safe drinking water. Therefore we have decided to launch Pureit, a top of the line purification solution and the world's largest selling water purifier, based on our commitment to making sustainable living commonplace and to improve the lives of Pakistanis."
The launch event was also attended by Dr Tariq Mehmood Mian, Director, and Association of Family Physicians of Pakistan and by senior representatives of various private and non-profit sector organizations. PureIt is being locally endorsed by Association of Family Physicians of Pakistan
PureIt meets highest international criteria of the Environmental Protection Agency (EPA), USA, for removal of harmful virus and bacteria. It is also certified by the London School of Hygiene and Tropical Medicine, the Scottish Parasite Diagnostic Laboratory.
With the new PureIt system, Unilever is giving away a programmed germ based technology.  This standard system has been embedded with an Advanced Auto Shut-off mechanism that would remove ten million germs in water.
In addition to this, it would allow people to filter without the use of gas or electricity, giving people access to filtered water at all times.
PureIt system has been placed at Rs.9, 000/- market price.
Filtration systems in Pakistan are a vital necessity, considering the water quality and the rise of fatal diseases in the society.  If this system could work and fall in budget for the people, it would help people to make way for progress.