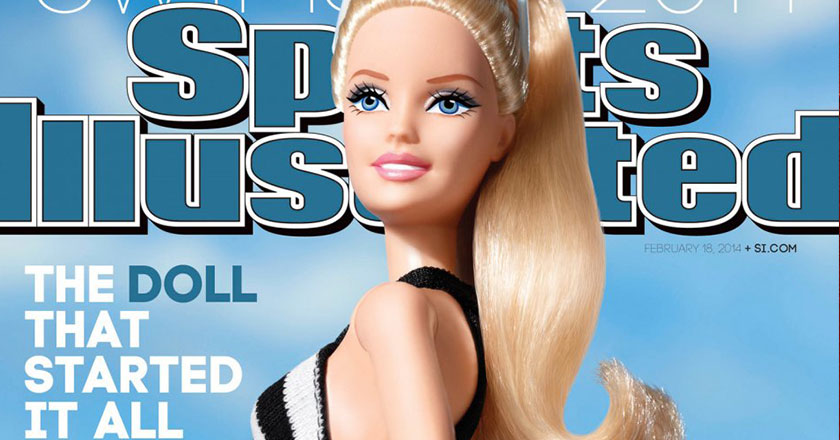 Sports Illustrated Exclusive 50th anniversary issue will feature the curves of a rather unusual lady, which in no way imply that she is less famous than any of the magazine's previous cover models, it's just that the lady is the most famous doll in the world – Barbie.
Yes, Sports Illustrated 50 year edition is going to feature the famour Barbie doll, in a redesigned form of her original 1959 swimwear.
Understandably, the collaboration of these two big brands will imply certain 'media tie-in' efforts, the crossovers goes deeper than Barbie featuring on the cover of Sports' illustrated.
As a part of the cross promotional deal, Barbie will also receive a advertorial spread shot of four pages by none other than the famous Walter Iooss, Jr. (longtime Sports Illustrated photographer), and in return the Internationally recognized doll will roll out an exclusive limited-edition Sports Illustrated Barbie's.
Son enough, this implies, that our next generations girls would not only grow up on toys in two-piece swimsuits with the most 'unrealistic' figures they will ever see, the little angels will also see a small 'Sports Illustrated' brand name in the corner of their toy. They will Google it, naturally, only to find more unrealistically perfect figured (real life) ladies in (at best) a two piece swimwear.
This seems such a nice idea when it comes to spreading global sense of insecurity at infancy.
But it seems, the officials know this already, thus comes the official hash tag of the campaign #unapologetic,which seems to also reflect the brands' response to the idea of Corporate Social Responsibility.
This will undoubtedly take the 'Insecurity Provoking' Photoshop-ed images of gorgeous women on magazines cover, to a whole new level.
A marketing analyst puts his thought on the campaign, with these golden words:
"MY FIRST THOUGHT IS THAT THIS IS PURE OUTRAGE BAIT."