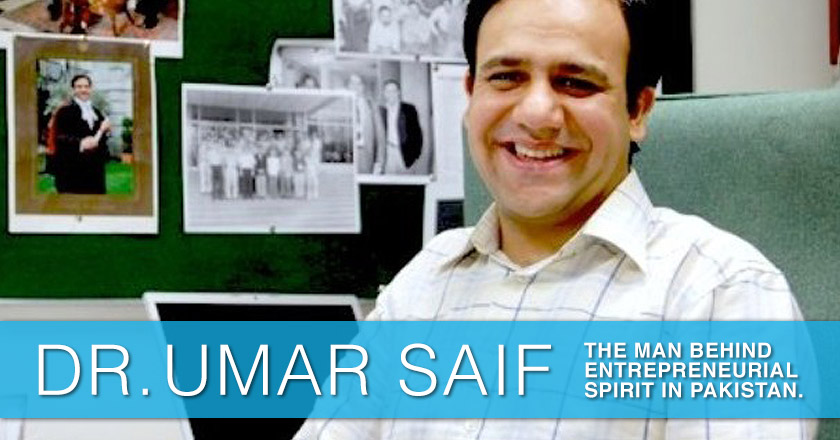 By Hassan Wasti
From Lahore to Cambridge and onto MIT, Umar Saif has done it all in just 35 years.
After a long haul away from his motherland 'Pakistan', Umar Saif returned to the country with a vision to ignite the entrepreneurial fire amongst the youth of the country.
Having worked in MIT on a $50 million Project Oxygen as a core team member, he was quick to realize his love for the entrepreneurial culture that resided in the US. Umar Saif dreamed of creating a hot bed of technology in Pakistan just like MIT, where techno driven entrepreneurial ventures can be encouraged.
Dr Umar Saif has the right mindset to start this culture in Pakistan and has already started to lay foundations for his dream. He made his way in the "World's Top Young Innovators for the year 2011" list released by MIT and he was also named 'The Young Global Leader' by the World Economic Forum in 2010.
Dr Umar has no doubt established himself as an international figure and it is a blessing for young technopreneurs out there that he is back and is currently the Chairman of the Punjab IT Board and  Vice Chancellor at Information Technology University in Punjab. 
As a man driven by the love of technology and the spirit of entrepreneurship, Dr Umar Saif has many entrepreneurial ventures to his name in the country.
His two startups have played a significant role in civil service in times of political turbulence and natural disasters in the country. He was also the brains behind the project 'See N Report', this was an initiative that helped common people report crime on news channels. This became an instant hit when journalism in the country was at risk, many projects like Geo Dost are based on this idea.
He was also the pioneer in developing BitMate, a Bittorrent server for low-bandwidth in the developing world.  BitMate increase the performance of low-bandwidth clients while improving their upload capacity through allowing low-bandwidth peers to assist each other download faster. BitMate has been downloaded in 173 countries more than 30,000 times.
Over the years Pakistan has lacked a proper infrastructure to facilitate technopreneurship but with changing times we need to realize that we need people like Umar Saif in our country to help build a proper plan for the future.
Hopefully we can make proper use of such resources and make Pakistan a hub for emerging technopreneurs in the future.