20th November 2019: The Ukhano harassment case has taken a new turn as new developments have come forth.
The alleged victim, Afrah Asif has taken it to her official social media to share a new statement.
Afrah has shared that her social media account was hacked and the comments made against Ukhano, claiming that he had attempted to rape her were not written by her but the hacker.
Here's what she had to say
This is what Ukhano tweeted after her statement
Facts behind false allegations #ukhanofalselyaccused original link 👉🏻 https://t.co/YZPIO4fciI pic.twitter.com/Lh9X5HpImc

— Umar (@u_khano) November 20, 2019
New statement from Afrah has created a new social media rampage

However, what we still cannot wrap our heads around is that if her social media accounts were indeed hacked as she claims, why was this not risen when the news of harassment against him went viral?
From what we understand from her official statement is that both of them have now reached mutual grounds in regards to the entire situation.
---
---
13th November 2019: The latest development in the Ukhano case has come to the forefront with him lodging an FIR against the allegation of harassment and rape. Ukhano was accused earlier this year in July 2019 of harassment and rape by multiple women who came forward on social media.
He has recently uploaded a documentary on his YouTube channel giving a roundup of all the events that happened during the time of allegation and onwards.
The women who have accused him had shared screenshots on social networks as proof of harassment which spread like wildfire.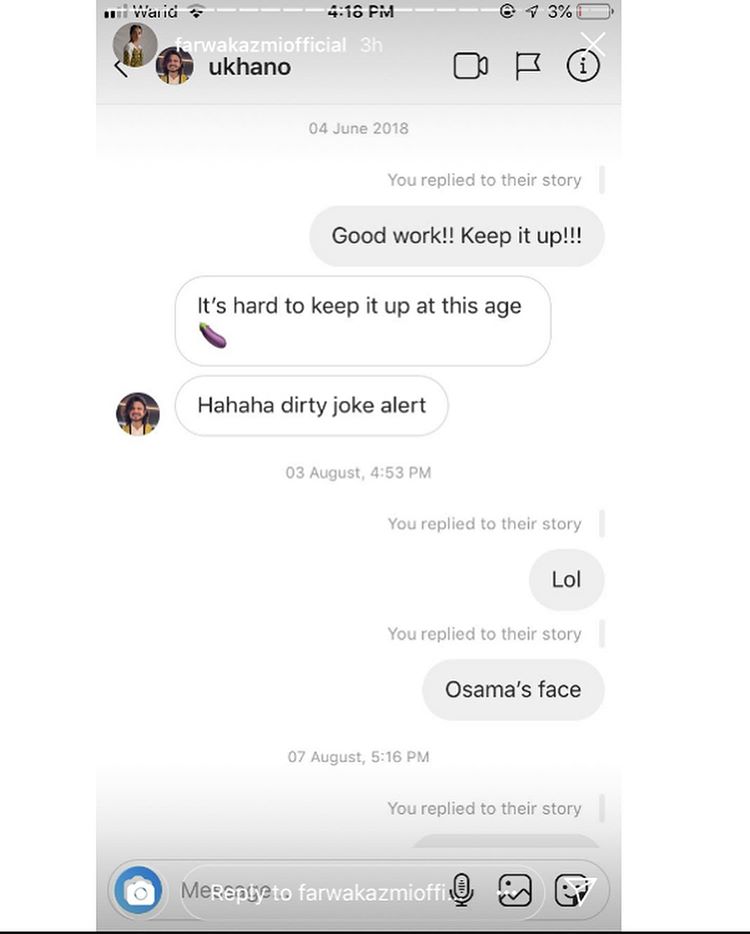 The vlogger came up with a statement video, refuting all the accusations and claiming that he would be taking legal action against all the alleged accusers.
Ukhano also shared his plan of action after filing the FIR.
https://www.youtube.com/watch?v=obeQ3_Ohbt0
This video was shared on Twitter with a heartfelt tweet expressing his trust in his fans and encouraging others to pursue proper legal action against such occurrences.
On 9th July I was a target of false allegation. I promised you all that I will go through the legal channel and after submitting my application in FIA along with all the evidence and after 3 months of investigation I have an FIR against false allegations. #ukhanofalselyaccused pic.twitter.com/NoSfwRzj97

— Umar (@u_khano) November 9, 2019
The tweet concluded with hashtag #UkhanoFalselyAccused, which is stilling trending on Twitter. In reaction, some individuals have supported him whereas many others have demanded proper proof he promised earlier.
The documentary portrays various viewpoints from different people including his lawyer Samaviya Sajjad, fellow vlogger Raza Samo, and even Assistant Director of FIA, Asif Iqbal.
Vlogger Raza Samo even apologized in the video saying that he only believed one side of the story.
Umar Khan's lawyer Samaviya mentioned a private publication that sided with the accusers only believing one side of the story.
Assistant Director FIA mentioned in the video:
"If someone tries to defame an individual, then an FIR will be filed against the prior, after due investigation."- by Asif Iqbal
Read the Formal FIR Below 
Never make negative comments or spread rumors about anyone. It depreciates their reputation and yours. #UkhanoFalselyAccused #FIR #CYBERCRIME pic.twitter.com/LGjpwVZ2B3

— Umar (@u_khano) November 9, 2019
The Ukhano harassment case has now taken a new turn. There are still more developments that are yet to come forward with time.
#MeToo: Famous Supermodel Claims that She was Harassed by Ukhano Too
What is your opinion on this? Share your thoughts with us in the comments below.
Stay tuned to Brandsynario for more news and updates.