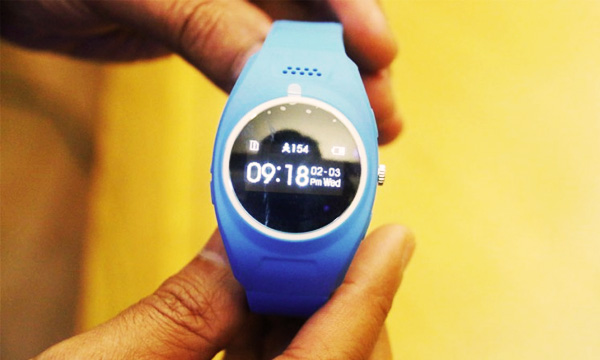 Ufone has launched UWatch to keep your kids in touch and secure when they are away, and that too without a smartphone in their use. This amazing wearable product is first of its kind with incredible tracking features that will keep parents updated about the real-time location of their children.
UWatch also has a feature to define and customize 'Safe Zone/ Danger Zone' and will give an alert to parents every time their kids move away from the Safe Zone or when they enter the Danger Zone.
[fb_embed_post href="https://www.facebook.com/ufone/videos/vb.111665325705/10153262438995706/?type=2&theater /" width="550″/]
It will be a relief indeed for parents who are always worried about their kids' safety. UWatch is exactly the kind of device every parent longs to have. Let's have a look at its amazing features, activation method, and other relevant details.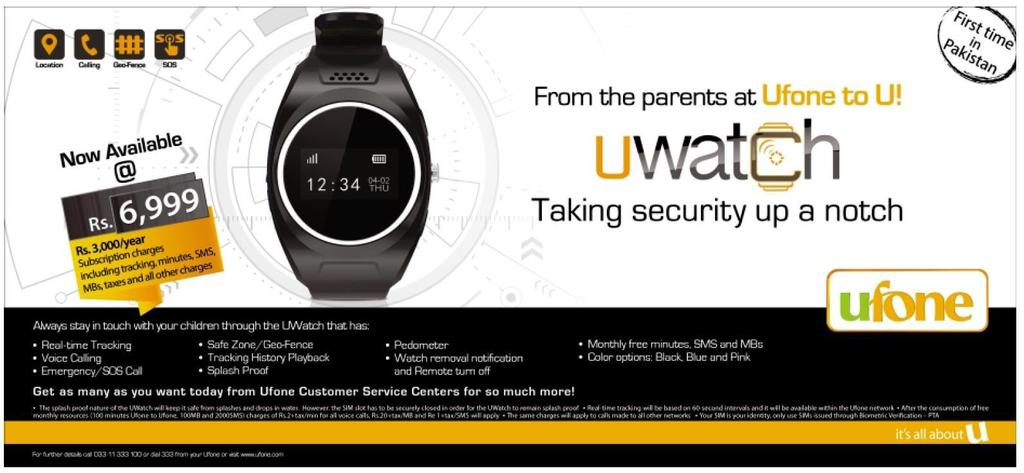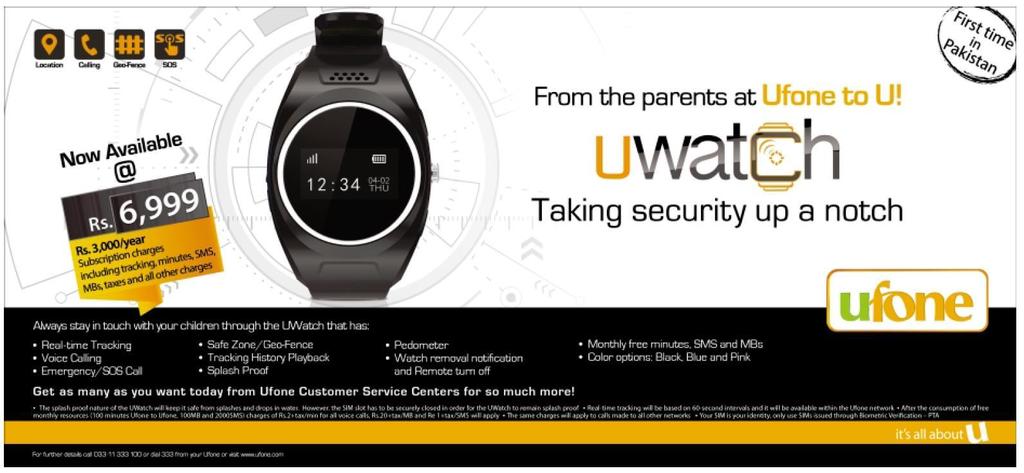 Activation of UWatch Tracking
Firstly, parents will have to install the UWatch Android app on their smartphone and then by scanning the QR code given on the UWatch box, synchronize it with the device. It is registered by giving parent's or the guardian a certain cell phone number, UWatch SIM number and a UWatch CID (provided to the customer at the time of UWatch purchase).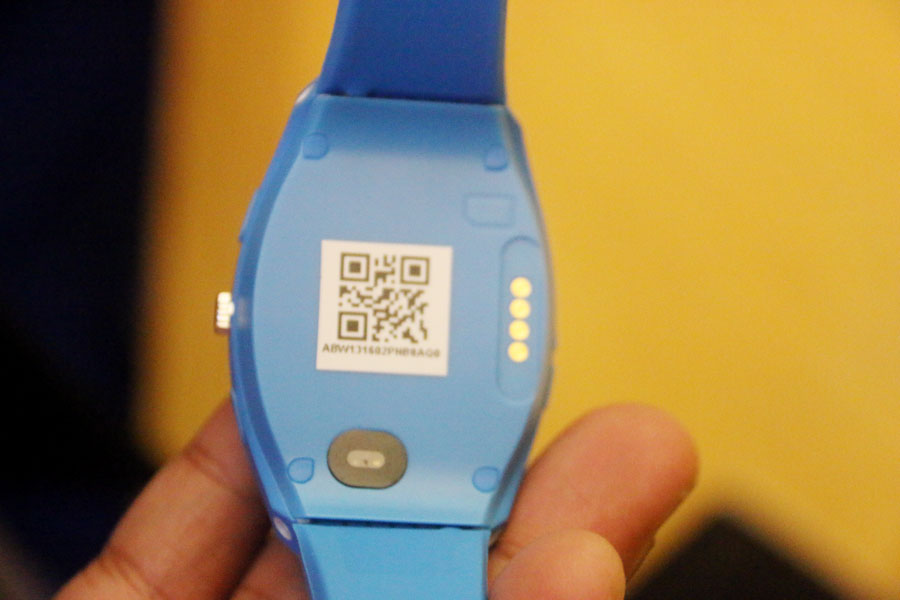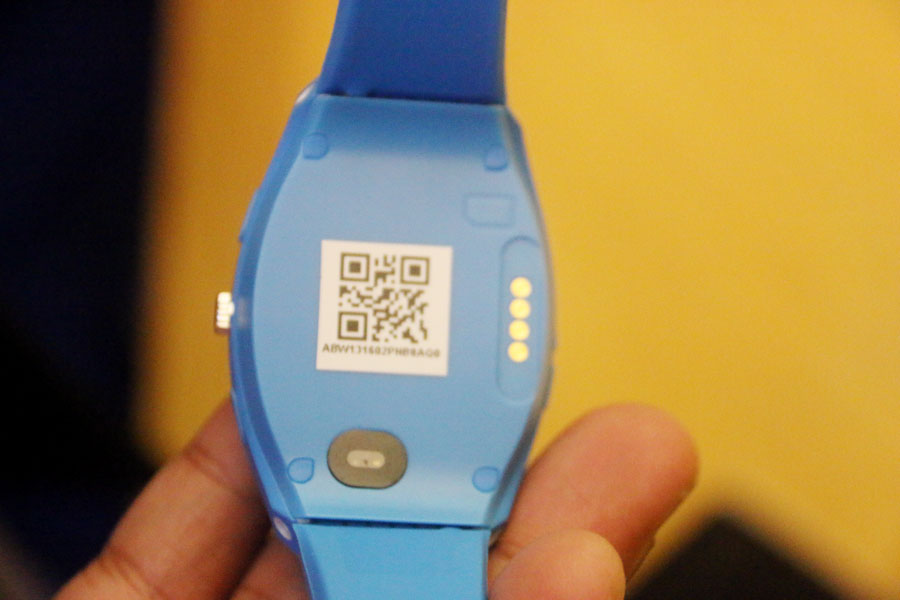 More than one UWatch can also be registered if you want to monitor more than one kid simultaneously.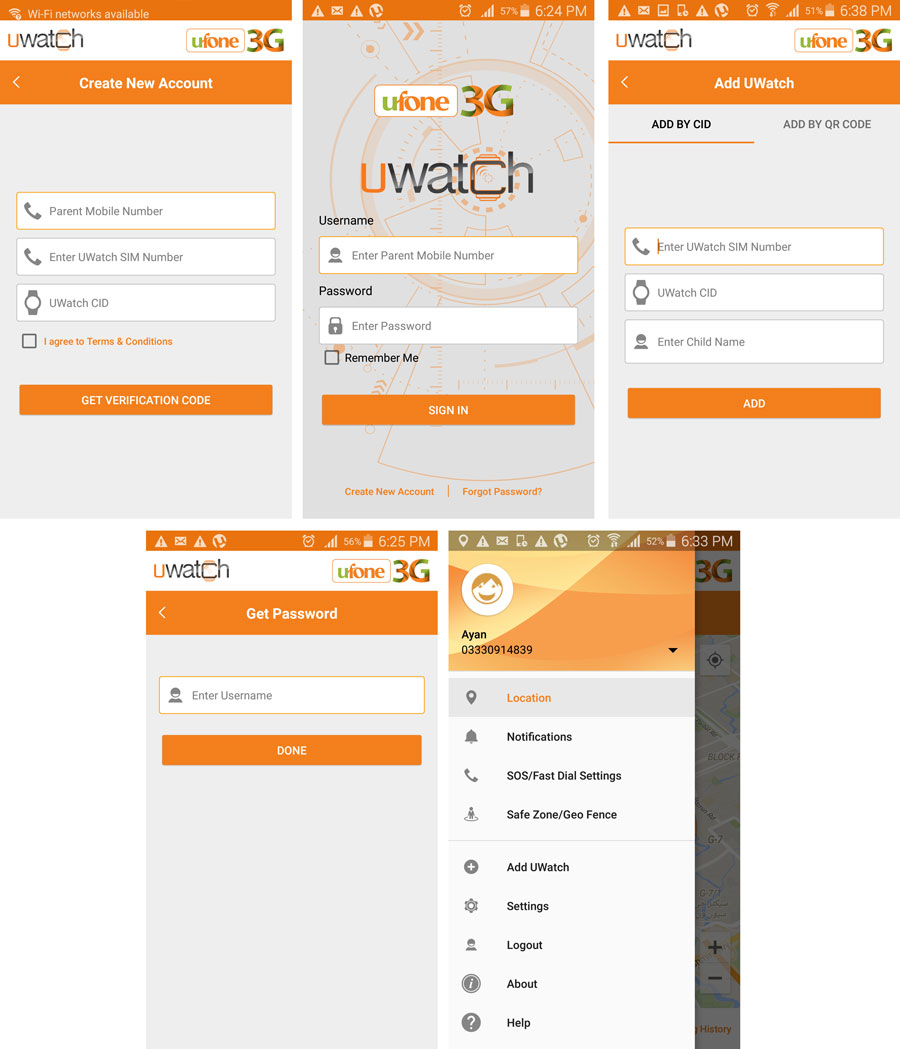 Real Time Tracking
Parents /Guardians can know the real-time location of their kid by using the UWatch Android App; just click on the 'Location' button and it will display the exact location and address of your kid's UWatch.
Ufone's Hilarious Response To Mobilink Nargis Fakhri Ad Controversy
A real-time location map can also be viewed in Satellite mode or in a 2D map format.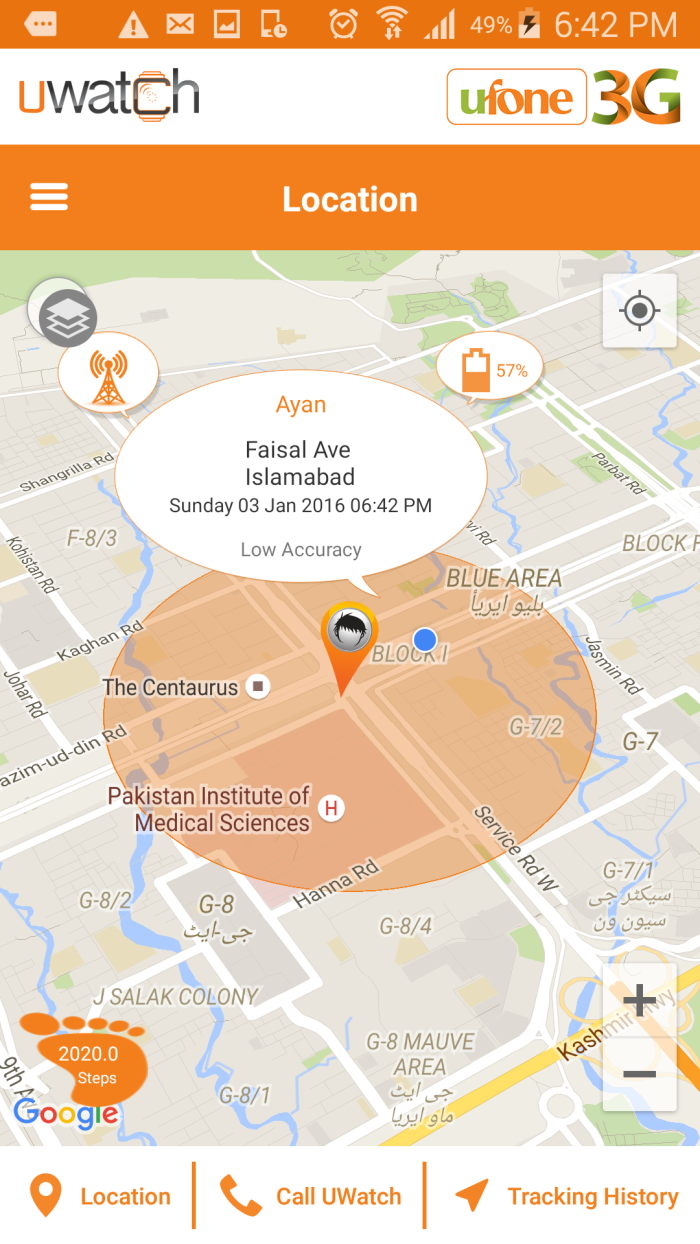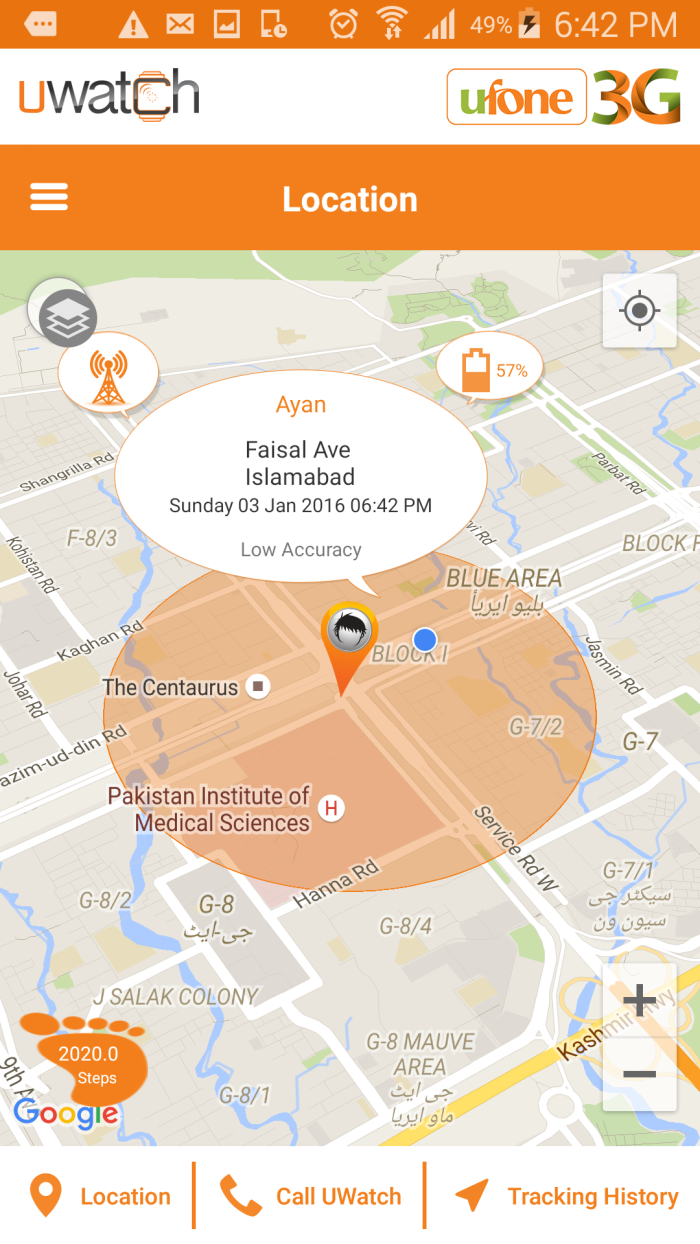 Two Way Calling (Parents to Kids/ Kids to Parents)
UWatch enables two-way voice calling system between parents and the kids. Parents can call their kids through UWatch App. Similarly, your kid can also have a fast dialing emergency service, SOS calling to the parents/guardians as UWatch has a speaker and microphone for the two-way communication.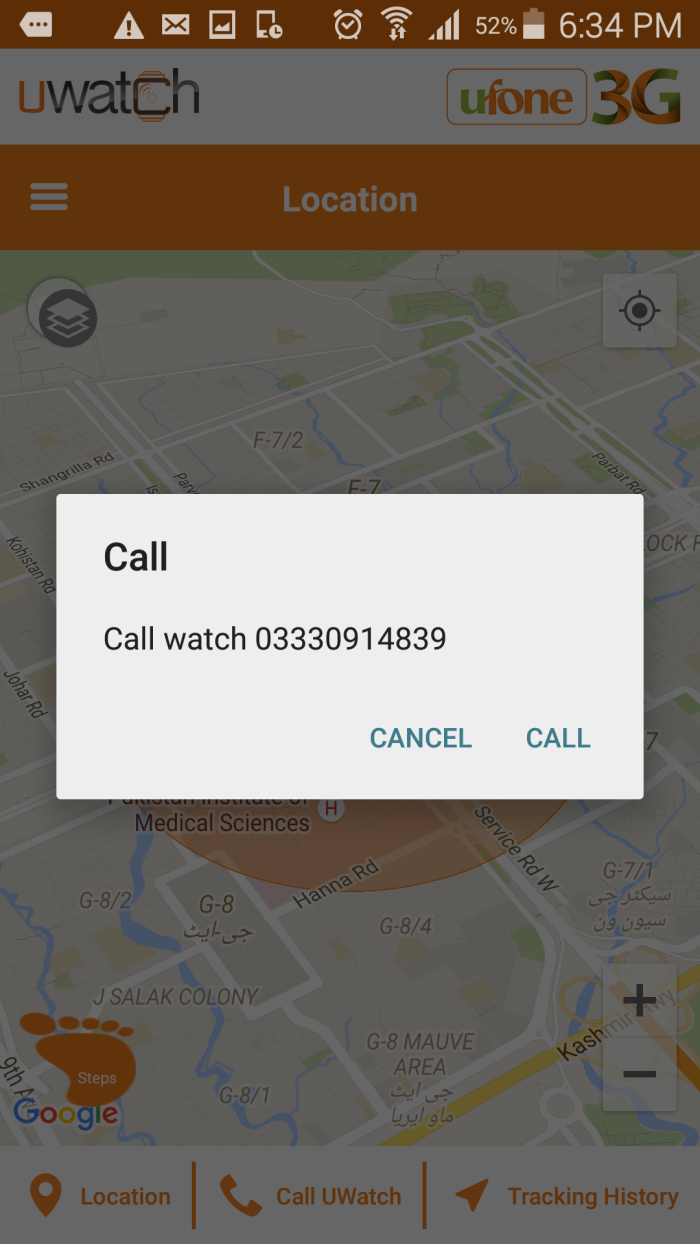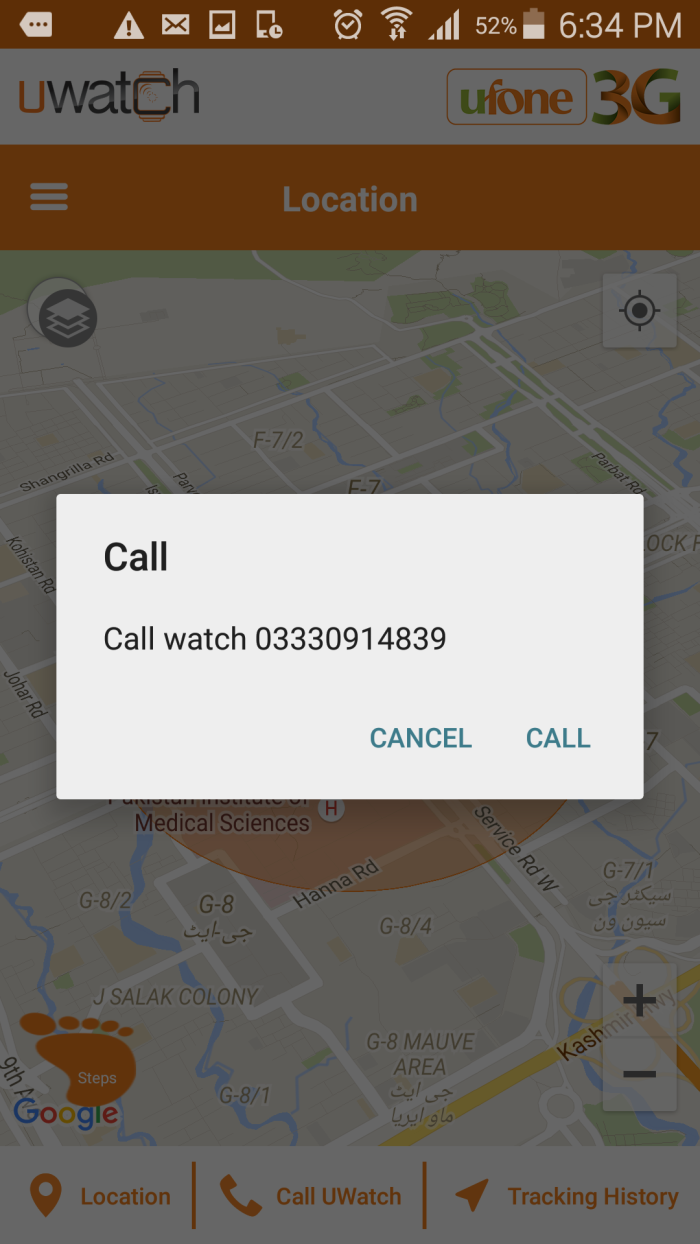 If the call originated from UWatch (kids) to Guardian is not responded or busy on another call, it is diverted to the second guardian and then third until it gets attended. Guardians/Parents can add up to three numbers for SOS calling for a prompt response.
Play Tracking History
UWatch app has an option of playing the history of tracks that your kid has moved around during a defined time period. It will store up to three months turn by turn tracking history. To check out on what routes your kid has traveled:
Tracking History > Select Start and End Time > Press Start Tracking

Define Safe Zones / Danger Zones
UWatch allows guardians /parents to mark up to 5KMs of areas as safe zone/danger zone. UWatch can send alert SMS to guardians if kids leave a safe zone or otherwise if they enter a danger zone or both.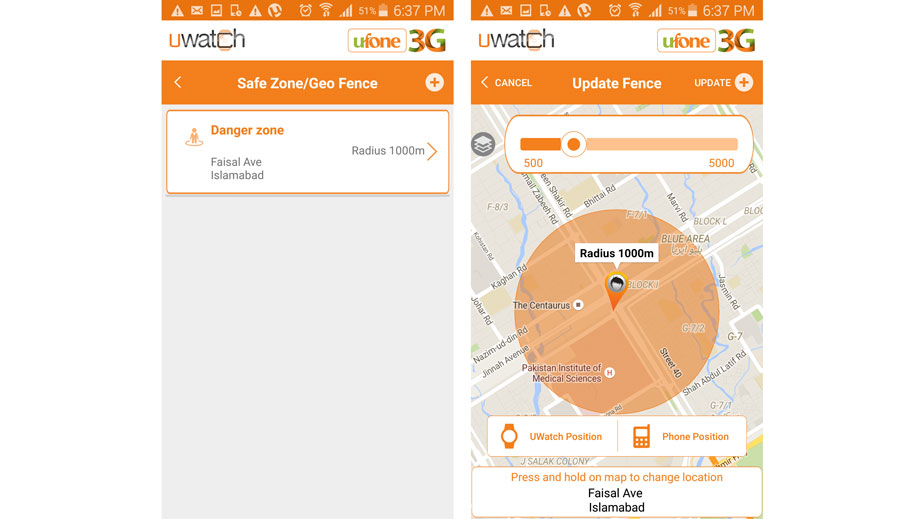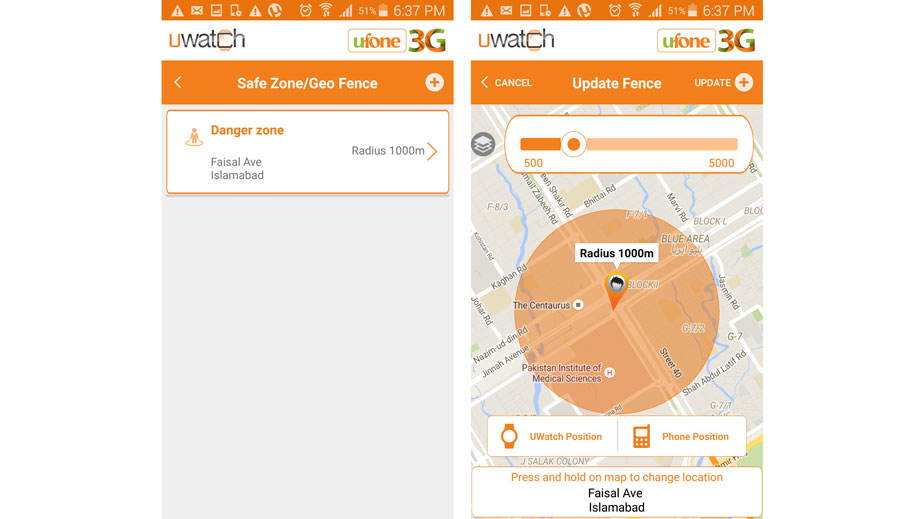 Remote Turn Off/ Turn On Function In Guardians Control
One of the basic specialty of UWatch that kids themselves cannot switch it off. Guardians have the control of turning it on and off through UWatch App. The light sensors of UWatch will give an alert as this wearable device is taken off from the wrist.
Long Battery Timing, Water / Shock Proof
UWatch battery time is up to two days and it is also water resistant, shock and splash-proof. Taimur Faiz Cheema, Ufone's General Manager Marketing stated on UWatch launching ceremony: "We are proud to be the first telecom company in Pakistan to launch a breakthrough product like the UWatch and we are confident this will bring some much needed relief to the parents."
UWatch Package, Price, and Availability
UWatch package includes the wearable device (UWatch), UWatch app. The UWatch can then be activated on a Ufone SIM through a UWatch smartphone app. The SIM in the watch will be referred to as a 'child SIM'. The one in the parent's smartphone will be referred to as the 'parent SIM'. An annual subscription package will be activated on the 'child SIM', whereas all charges will be deducted from the 'parent Ufone SIM'.
UWatch's Price: Rs. 6,999
Annual Charges: Rs. 3,000 per year
First Time Charges: UWatch Price + Annual Charges for First Year: Rs. 9,999
All prices are including taxes
UWatch comes with six months of Ufone warranty
Monitoring Charges include:
2,000 SMS — for notifications to be sent from UWatch to Guardians
100 UWatch to Ufone minutes
100 MBs to be used by UWatch for sending data to servers
This device is now available for purchase in blue, black and pink colors from Ufone Service Centers in Karachi, Lahore, and Islamabad.
Stay tuned to Brandsynario for more updates!