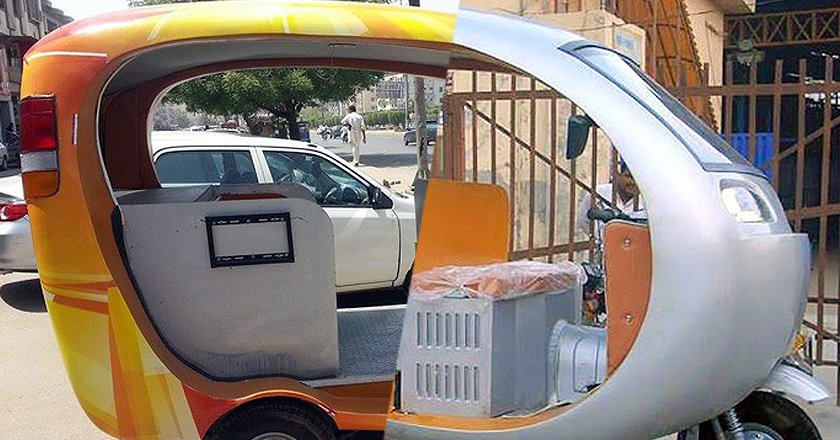 UPDATE:
The complete rickshaws have been spotted in Karachi!!
---
Silver colored, oval shaped and somewhat like a conventional rickshaw, an innovative form of vehicles have been spotted by many.
While many of you might think that some Pakistani director is ripping off 'Back to the Future' movie and set it in 2030 Pakistan, worry not – we aren't that cool, YET.
People describe it as an 'Anda (egg) on wheels'. 
These rickshaws are the brainchild of 'Brand Activate', a Karachi-based activation agency, activating brands through ideas that clearly stand out.
According to Brand Activate, who have given a sneak peek on the project, these are 'Smart and Fully Equipped' rickshaws, these rickshaws have been designed for Ufone.The fleet of rickshaws now stands at the engineering compound ready to get to work as soon as the campaign starts.
Speculations of the rickshaws having 3g connections for Wifi enabled services along with GPS navigation are being made, but the real facts will be unveiled when the rickshaws go into service.
Being an automotive enthusiast, I couldn't help but notice the design flaws of the rickshaws.
First off, the design of the body is a uni-body. Which means if the rickshaws take a hit, the whole structure will be affected. Also, metal bending is a hard choice unless you have 'Toph Beifong' to do it for you.
So my guess would be it is made from either fiberglass or PVC plastic.
The other flaw is the placement of the windshield on a high angle. Unless you have 'Aalam Channa' to drive the rickshaw, the average Pakistani driver will have only 50% or less view of the road.
Lastly, the bent pillars on the side of the windshield will also obstruct view, which will be deadly for motorcyclists.
Let's wait and find out about the potential success of this brand activation idea. Ufone always delivers the best marketing campaigns and this one might measure up to the standards.